Michigan Attorney Grievance Commission Accuses Credit Repair Attorney Gary Nitzkin Of Misleading Clients 
A Detroit area credit repair attorney has been accused of misleading clients. Former clients accuse Gary Nizkin of not being upfront about taking attorney fees out of settlements for services.
The Michigan Attorney Grievance Commission filed a six-count complaint against Gary Nitzkin. Nitzkin is the owner of a Southfield law firm that goes by the names Michigan Consumer Credit Lawyers and Credit Repair Lawyers of America.
The complaint accuses Nitzkin of "false, fraudulent, misleading or deceptive" communications and other alleged misconduct that can reflect badly on the legal profession. Nitzkin denies all the allegations. He contends there is nothing misleading on his websites or client paperwork.
Nitzkin told the Detroit Free Press:
I've done the best that I could to be as clear as possible.
The credit repair attorney's firm sues creditors and the reporting agencies on behalf of consumers who have errors on their credit reports.
These lawsuits can stop erroneous debt collections and fix reporting errors.  The lawsuits also result in modest monetary damages awards for the consumer.
The Fair Credit Reporting Act limits awards to $1000 plus attorney fees. In addition, consumers can also to collect attorney fees from the corporate defendants.
Creditors usually settle these cases for $4,500 to $5,000.
Complaints About Credit Repair Attorney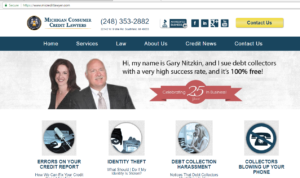 The complaint describes how a Michigan client retained him in 2015 to contest an inaccurate debt on her credit report regarding Kia Optima.
Nitzkin's went on to file a lawsuit on her behalf against two credit reporting agencies and her credit union. He won two $5,000 settlements in December of 2015 against the reporting agencies. However, the case against the credit union continued into 2016.
The woman asked multiple times for information about her case's attorney fees but was rebuffed by the law firm's staff. Nitzkin's staff allegedly told her to wait until the case was concluded.
The law firm ultimately billed the woman $13,086 including $300 to $350 an hour for attorney fees and $110 an hour for administrative staff. Nitzkin's firm also billed the woman $140 to $160 an hour for paraprofessionals. The fees subsumed left the woman with no settlement money from the case.
A northern Michigan man also sought help from Nitzkin for an allegedly inaccurate credit report related to cell phone bills.
Nitzkin's firm ultimately got $22,000 in total settlements for the man's case. However, Nitzkin billed the man $19,545 leaving him with only $2,455.
The pissed off client fired off an angry e-mail to Nitzkin. He called him a "greedy ass" attempting to rip off a disabled veteran:
Nitzkin's attorney told the Attorney Grievance Commission that the man ultimately reviewed and approved each settlement.
Is The Website Of A Credit Repair Attorney Misleading?
Nitzkin operates several websites to attract clients. The Grievance Commission takes issue with one of his websites for his firm, micreditlawyer.com. The website features banner headlines stating that his legal service is "100% free." (see above)
Nitzkin's website also features a cheesy video of him and his father. In the Nitzkin promises his father he doesn't charge his clients a fee.
Nitzkin's father tells the younger Nitzkin in the video:
Your mother and I raised you, to tell the truth. Look at me in the eye, and tell me that you're not going to charge these clients a fee.
The younger Nitzkin responds:
Dad, I will not charge these clients a fee — promise. No boy is going to lie to his dad.
The grievance complaint accuses the c of violating that pledge because he takes attorney fees out of his clients' settlements. These fees can eat up most or all of the settlement money that clients would otherwise have coming to them.
It also accuses him of not being forthcoming with clients about their likely attorney fees until cases are completely over.
The complaint  claims that Nitzkin's practices "are designed to induce clients to use his 'free' services, handle a high volume of cases, keep his clients in the dark about his fees, and leave any fee disputes until the end of his matters after (Nitzkin) has already disbursed his fees and costs to himself."
A newer website for his law firm, creditrepairlawyersam.com, does explain on an inside page that money from client settlements will go toward the firm's attorney fees.
Credit Repair Attorney Fights Back
Nitzkin said his firm files 300 to 350 lawsuits a year and has thousands of happy clients. He also points to his positive reviews on lawyer review websites.
The Credit Repair Attorney also insisted that his service is indeed free for clients because they don't pay any of their own money.
Nitzkin also said he tried to seek guidance from the grievance commission on how he can better explain his billing practices to potential clients. However, he never received any feedback.
the Credit Repair Attorney told the Detroit Free Press:
They were hell-bent on going into a prosecution — so now I've gotta fight back.
The case is scheduled for a June 14 hearing. The three-person Discipline Board could dismiss the complaint or take disciplinary actions. Such punishments include a reprimand, suspension or disbarment.