Al Capone's Former Miami Beach Mansion Hits The Market For $15 Million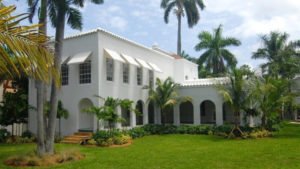 The former Miami Beach mansion of Al Capone just hit the market for $14.9 million. The world's most popular gangster bought the home in 1928. He died in the mansion in 1947.
A wealthy Italian industrialist family now owns the Miami Beach mansion. The Real Deal Miami is reporting MB America paid $8 million on behalf of the family for the Miami Beach mansion in 2013. The owners have also just completed a multimillion-dollar renovation of the property.
MB America is representing the wealthy Italian family selling the bayfront estate at 93 Palm Avenue.
Nelson Gonzalez of EWM Realty International is the listing agent.
The property features a 6,100-square-foot main house with 7 bedrooms and a pool. The house also features a two-story cabana. In addition, the original gatehouse Capone installed has been converted to a two-bedroom guest house.
The property features also a private beach and 100 feet of waterfront on Biscayne Bay with views of adjacent Hibiscus Island.
In 2015, MB America unveiled the estate as a production. MB America shot the above video following the $1.4 million in renovations. The company also created a website dedicated to the property. You can see it here.
The main villa also features the original black and gold Art Deco powder room. Contractors were able to restore the ceiling lights from the 1920s and original fireplace. The 30,000-square-foot property has about 100 feet of waterfront.
The Italian family that owns Capone's former home has also owned other event venues and retreats in Miami. They also own the Orchid House at 1350 Collins Avenue in Miami Beach.
If you are hoping to see the property, you're out of luck. The property is located on the exclusive and guard-gated Palm Island.