Actress Allison Mack Indicted For Recruiting Woman Into Hudson Valley Sex Cult Pyramid Scheme NXIVM
NXIVM leader Keith Raniere and actress Allison Mack were indicted on Friday. Federal prosecutors charged the two with two counts of sex trafficking-related charges and forced labor conspiracy.
Richard P. Donoghue, United States Attorney for the Eastern District of New York states:
Mack recruited women to join what was purported to be a female mentorship group. The victims were then exploited, both sexually and for their labor, to the defendants' benefit.
As this pyramid scheme continues to unravel, we ask anyone who might have been a victim to reach out to us with information that may further our investigation.
Allison Mack And Her Involvement In NXIVM and The Sourc

e
Raniere created a series of purported self-help programs over the past 20 years within his umbrella organization NXIVM (pronounced NEX-i-um).  The Albany, New York-based NXIVM operated centers throughout North and South America.
NXIVM features all the characteristics of a pyramid scheme. The cult offered courses costing thousands of dollars each and participants encouraged to pay for additional classes. Nxivm also recruits others to take classes in order to rise within the ranks of Nxivm.
NXIVM materials credit Allison Mack with co-creating a Nxivm program called The Source to recruit actresses and celebrities. Mack allegedly recruited Battlestar Galactica actresses, Grace Park and Nicki Clyne. Mack also recruited fellow Smallville actress Kristin Kreuk.
Allison Mack Allegedly Recruited Sex Slaves For Keith Raniere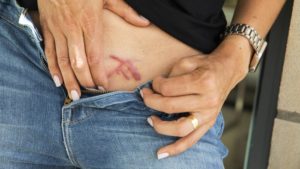 Raniere created a secret society within NXIVM in 2015 called "DOS." DOS is an acronym that stands for a Latin phrase that loosely translates to "Lord/Master of the Obedient Female Companions," or "The Vow."
DOS operated with levels of slave women headed by masters. Thus, slaves became masters themselves. As a result, slaves and masters owed service to the masters above them in the pyramid.
Raniere stood alone at the top of the pyramid. All members of DOS were women except for Raniere. Allison Mack is in the first level of the pyramid immediately below Raniere.
Allison Mack recruited slaves by convincing them they were joining a women-only empowerment organization. She also told them that the group would eradicate purported weaknesses in women. Mack and other masters concealed Raniere's status at the top of the pyramid from new recruits.
NXIVM also required women to provide damaging information about friends and family.
In addition, cult leaders also required women to offer nude photographs.
Consequently, NXIVM would use the information and pictures as a form of blackmail if they told anyone about the group's existence or left the group.
NXIVM would also brand the women in their pelvic area. The branding consisted of Keith Raniere's initials. Cult leaders required the women to be fully nude during the ceremony and have participants record it.
According to court filings, Mack directly or implicitly required her slaves to engage in sexual activity with Raniere. The Smallville actress received financial and other benefits from Raniere.