Houston Homeowner Finds Remains Of Former Owner Mary Stewart Cerruti In A Wall Of The House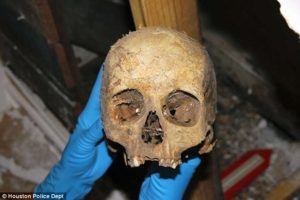 Last summer a Houston homeowner found a surprise in the foreclosure he just purchased. No, it wasn't a missing Matisse painting or a rare draft of the Declaration of Independence.
However, it was the remains of 61-year-old Mary Stewart Cerruti. Cerruti was the former owner who mysteriously disappeared in 2015.
Cerruti's whereabouts have remained a mystery until last month.
Harris County Coroner's Office identified the remains of Cerruti in January after identifying bones found inside the property.
Police found no signs of trauma or foul play in what bones remained, although a great deal of evidence was victim to decay and animals.
Law enforcement thinks she may have been up in the attic and fell through the attic floor.
There was a broken board in the attic that led down to the space between the walls where Cerruti was found according to PEOPLE.
There is no evidence to say how exactly she died.
The Houston Chronicle reported Cerruti's neighbors became concerned in the summer of 2015 after they noticed the mail piled up in front of her house that had a broken window.
The paper also reported that six dead cats were inside.
Cerruti had taken care of stray cats that she kept them in the attic.
She'd taken photos of them when she'd been alive, giving them names like Slim, Sweetie and Little Spot.
Cerruti's neighbor, Roxanne Davis doesn't believe the theory she fell through a broken board:
It's hard for me to believe that a person could step on a board, and their entire body would go down a crack that is two inches wider than a dollar bill.
 This happens in Florida all the time.