David Rockefeller's 75-acre New York estate sells for 50% MORE than its asking price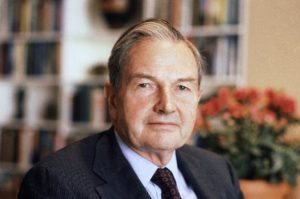 David Rockefeller inherited a fortune from his oil baron grandfather. He made even more money as CEO of Chase Manhattan Bank.  Rockefeller passed away last year at the grand old age of 101.
Rockefeller left behind a grand estate worth over $3.3 billion.
The centerpiece was Hudson Pines. Rockefeller's 75-acre estate in Westchester County, New York. The house sold last week for $33million. The property sold for 50% above its asking price of $22 million.
David Rockefeller's Hudson Valley retreat was built from recycled bricks from a New York City townhouse is and surrounded by trees and apple orchards.
Hudson Pines sits next to the Rockefeller State Park Reserve. Rockefeller gave 1,000 acres of land he owned next to the park to the state of New York in 2015 to mark his 100th birthday. The state incorporated it into the protected area.
The three-floor home features a floating staircase. A living room overlooking the property's enormous lawn.
The vast house also contains 11 bedrooms with 15 bathrooms and servants quarters.
In addition, Hudson Pines also has a large carriage house where David Rockefeller stored his vast collection of horse-drawn carriages.
The site features two offices. One office is separate from the house and has a helipad.
Houlihan Lawrence Private Brokerage declined to say who bought the property.   
David Rockefeller embraced business unlike other members of his family who gave away their money. He traveled and spoke widely as a champion of enlightened capitalism. 
David Rockefeller: The Philanthropist & Art Collector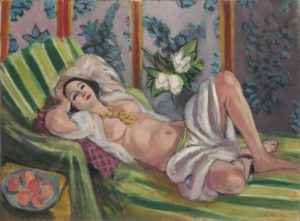 David Rockefeller is known for embracing enlightened capitalism. However, he is also known for his philanthropy and maintaining the family's patronage of the arts. This includes the family's long-standing relationship with New York's Museum of Modern Art. The Rockefeller private art collection was once valued at $500 million.
David Rockefeller kept a $90 million Picasso nude in his living room at his Manhattan penthouse. He wedged between windows that overlooked East 65th Street. Rockefeller believed that art was meant to be lived with not hidden away.
David Rockefeller had a long-standing affinity for modern art. He spent the better part of a century collecting works by Paul Gauguin and Diego Rivera.
Rockefeller also collected art from Henri Matisse and others. He collected art as a hobby. However, it eventually contributed significantly to his personal fortune.
In last decade art values have ballooned and Rockefeller's paintings were no exception. They began to constitute a very good portion of his estate. Christie's will auction off the collection starting May 8th.
Rockefeller's collection also included at least four paintings by Claude Monet and Georgia O'Keeffe. In addition, the billionaire owned hundreds of other treasures including the dinnerware Napoleon took with him into exile on Elba.