Cartier Boss Says Nightmares Of The Poor And Destitute Overthrowing Plutocrats Keeps Him Awake At Night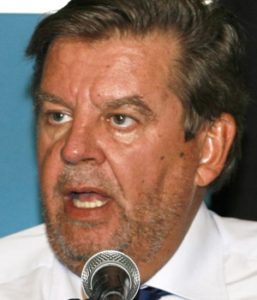 Cartier boss Johann Rupert has revealed his greatest fear. The multi-billionaire boss says he fears robots replacing workers and the poor rising up to destroy plutocrats like him.
Rupert expressed his worries to his fellow plutocrats at the Financial Times Business of Luxury Summit in Monaco. The fashion tycoon also told them that his nightmares of the social armageddon are imminent.
According to Bloomberg:
Johann Rupert told the conference to bear in mind that when the poor rise up, the middle classes won't want to buy luxury goods for fear of exposing their wealth.
The Cartier boss stated he had been reading about changes in labor technology. He also stated that Oxfam figures suggest the top 1% of the global population now owns more wealth than the other 99%.
Rupert told the group:
How is society going to cope with structural unemployment and the envy, hatred and the social warfare?
He also stated that plutocrats around the world are destroying the middle class:
We are destroying the middle classes at this stage and it will affect us. It's unfair. So that's what keeps me awake at night.
South African Rupert was estimated by Bloomberg to have amassed a fortune of around $7.5 billion from brands including Cartier, Chloe, and Vacheron Constantin.
Rupert is the CEO of Cartier's parent Compagnie Financiere Richemont. He took a one-year sabbatical which he spent reading and fly-fishing. Forbes Magazine speculates that is when Rupert began contemplating a global social revolution.