Billionaire Trust Fund Baby Turned Secretary of Education Betsy DeVos Wants To

Eliminate Student Loan Debt Forgiveness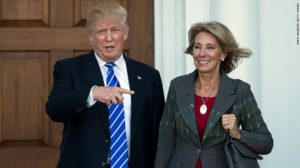 Donald Trump may eliminate Student Loan Debt Forgiveness in his first budget. Secretary of Education Betsy DeVos has also publicly stated she strongly favors eliminating the Student Loan Debt Forgiveness plan.
In addition, Betsy DeVos has failed to state how she plans to deal with federal student loans in the future. 
Reports as of last May are that Trump and DeVos' initial education budget will seek to eliminate the Student Loan Debt Forgiveness program. This would cost student loan borrowers billions of dollars. Yet, it would reap millions of dollars for the DeVos family. The DeVoses hold a sizeable stake in several student loan providers.
Trump and DeVos also want to eliminate over $700 million in Perkins Loans and massively reduce work-study programs.
What Happens If Trump/DeVos Take Student Loan Debt Forgiveness away?
Borrowers eligible for Student Loan Debt Forgiveness through a Direct Loan Program should also immediately consider consolidating their loans. 

Borrowers should also immediately certify their employment if they are in the Direct Loan Program. Especially if they are eligible for Student Loan Debt Forgiveness,
These steps alone will not ensure that borrowers will receive Student Loan Debt Forgiveness. But being in the program prior to any law changes is likely to improve your chances of receiving it greatly.
Here Are Some of Trump and DeVos' most concrete views:
None of these proposals are law yet. There is also no program with the name "Trump Student Loan Debt Forgiveness."
The Trump Administration has proposed the following:
Consolidate ALL current repayment plans into a single Income-Based Repayment program (IBR). Students would pay 12.5% of their income toward their loans each month and receive total loan forgiveness after 15 years.
Create plans to cover increased student loan debt forgiveness amounts due to shorter repayment terms by lowering federal spending accordingly
Trump is promising to scale back funding significantly for the Department of Education
Trump has stated that the "Government shouldn't be making money on student loans."
The only logical way to fix to this would be to lower the interest rate for federal loans going forward.
Trump favors getting rid of the Public Service Loan Forgiveness program and placing borrowers into a single IBR.
Will push colleges to cut tuition by reducing large administrative costs
Will reduce federal regulations on colleges to reduce their compliance costs so they can pass those savings along to students
Universities will be required to spend all of their endowment money on their students. This would lower tuition and cut student debt.
Threatened possible tax-exempt status for large university endowments if schools don't start making their degrees more affordable for students
How Could Trump's Student Loan Debt Forgiveness Proposals Impact Borrowers?
Trump's proposal would change the IDR program as he has suggested. However, Income-Driven Repayment plans would have a higher monthly payment but forgiveness would occur sooner.
The Big Outstanding Questions:
What are the tax implications on forgiven student debt?
How this impact bankruptcy reforms? 
Will Trump forgive my student loans?
How do I get student loan forgiveness?
It seems very likely that whatever program the Trump Administration implements will place forgiveness after 15 years of payments.
Borrowers should make sure they are enrolled in the direct loan program. If they are not, consolidate them into the direct loan program. If they are Stafford loans you may also want to see if you qualify for any of the Stafford forgiveness programs. 
Will Trump lower my student loan payment?
You also don't need to wait for Trump or DeVos to lower your payment. You can lower your payment today.
Look at Income Driven Repayment programs and/or private loan consolidations today. It is likely Trump will continue the IDR program that helps borrowers lower their payment to a manageable size.
Here are a few of our recommendations based on what we know at this point:
1) Trump is clearly in favor of a single IBR program going forward. He also favors a shorter forgiveness period than the current version. You should enroll in a current Income-Driven Repayment program (or a loan rehabilitation) if you are in default. If you're not, it may be best to wait and see what develops with Trump's stated new version before you enroll. The shorter forgiveness period may end up saving you money over the long-term.
If you're not enrolled in an IBR it may be best to wait and see what develops. The shorter forgiveness period may end up saving you money over the long-term.
2) Make sure to stay current on your student loans payments and out of default status. Furthermore, keeping your loans in good standing is the best way to keep your opinions open going forward.
3) No one knows how Trump's student loan policies will affect private loans. Experts say it may be worth it to simply to wait and see what develops. This may offer the opportunity to take advantage of better options in the near future.