Secret United Monroe Kiryas Joel Deal Creates Mass Exodus As Monroe Home Values Continue To Plummet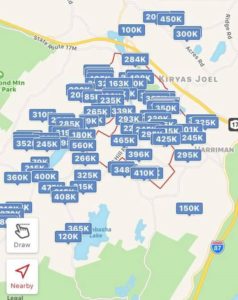 The secret United Monroe Kiryas Joel deal appears to be causing panic among Monroe homeowners. Residential real estate sales have decreased 50% in Monroe since the proposed settlement was announced. Home values have also dropped an additional 20% since April according to Zillow.
Monroe property values had already plummeted 30% since 2014 when Emily Convers declared her anti-Semitic war on the Satmar. The secret United Monroe deal has made a sluggish Monroe real estate market worse. 
Real estate experts attribute the decline to the political activities and anti-Semitism of United Monroe. Brokers also attribute declining values to United Monroe's barrage of frivolous lawsuits against the county and elected officials. These frivolous lawsuits have cost taxpayers nearly $150,000. Orange County taxpayers can expect that number to reach $1.5 million. 
Realtors say that having former Allstate Insurance Agent Dan Castricone bashing Hasidic Jews on WTBQ isn't helping restore Monroe home values.
Several Realtors have stated buyers refuse to look at properties in Monroe. As home buyers tell them: 
No, thank you! I don't want my children exposed to Nazis!
The deal United Monroe negotiated with the Satmar who control Kiryas Joel has only exacerbated the problem of plummeting home values in Monroe. 
Monroe also has the distinction of being the only municipality in the tri-state area that has not had increased property values. Property values in the New York Metropolitan Area have increased 3o% on average since 2013. That is except in Monroe. 
Smart homeowners see United Monroe leadership and their Kool-Aid drinking followers for what they are. So they are fleeing Monroe like Syrian refugees out of Aleppo.
Land So Kiryas Joel Won't Sue United Monroe Leaders For Legal Fees
United Monroe knows their frivolous lawsuit to block Kiryas Joel annexation is lost. United Monroe leadership also recently realized they will be responsible for reimbursing Kiryas Joel nearly a third of their legal costs. Why they just figured this out recently is anyone's guess. It appears to be blind arrogance and lack of experience. 
Orange County and the municipalities who jumped on the United Monroe bandwagon would be liable for the remaining balance. 
Orange County taxpayers and United Monroe are looking at a potential $1.5 million legal bill from Kiryas Joel's lawyer. This means each United Monroe Executive Committee Member would be on the hook for between $75,000 to $100,000.
The secret United Monroe deal gives Kiryas Joel 56 acres of prime Monroe real estate in exchange for indemnifying them from any counterclaims for Kiryas Joel's legal fees. The 56 acres is also in addition to the 164 acres Kiryas Joel annexed in 2015. Furthermore, Kiryas Joel will also be able to split into its own town called Palm Tree. 
United Monroe and Emily Convers are pitching this deal as "Land For Peace." 
When it's actually, "Land So KJ Won't Sue United Monroe Leaders For Legal Fees."
In other words, it's a deal to cover Emily Convers' rotund posterior.
The Secret United Monroe Deal Will Bankrupt The Town Of Monroe And Cut School Funding
Monroe officials say the deal will cost the Town of Monroe $1.8 million in property-tax income and other revenue. A loss of this amount would bankrupt the town. 
The Monroe-Woodbury Central School District is also expected to lose millions of dollars in tax revenue due to the deal.
In addition, Kiryas Joel property owners pay roughly $1 million in taxes to support town services. If Kiryas Joel splits from Monroe this tax revenue will be permanently lost.
Monroe would also lose other income sources including mortgage tax receipts. The net impact of those losses is equal to 20% of the town's budget of $9.3 million.
Monroe Comptroller Peter Martin projected the town would lose half of the $750,000 in mortgage taxes it expected to collect this year.
In addition, the town would lose up to half of the $280,000 in budgeted Dial-a-Bus income. The losses incurred by the loss of Dial-a-Bus include a combination of state and federal aid. Martin also stated that Monroe would lose half of the $250,000 in expected court fines the town receives.
Martin also told Record Online:
There are not enough places in the budget to cut $1.8 million.
Emily Convers Made Her Own Kiryas Joel Scare Tactic A Self-Fulfilling Prophecy
Ironically, the scare tactic used by Emily Convers to rally people to United Monroe has become a Self-Fulfilling Prophecy in less than two years.
In other words, Convers' delusion that she declared as truth when it was actually false became a reality due to her manipulation of people and events. 
She wrote in October of 2015:
 Your taxes will go up, while at the same time, your property values will go down. Possibly WAY down. Many Hudson Valley citizens rely on the equity in their homes for their retirement nest egg. Over time, this equity will dwindle and dwindle until you have nothing left. And if you are a newer homeowner in the area with a mortgage, the drop in your property value could well put you "under water".
Convers also writes about funding cuts to the Monroe-Woodbury Central School District. Ironically, cuts that will happen because of her and United Monroe.
If not stopped, this bloc vote will also eventually result in a severe diminishment in the quality of the schools that your children attend. In the long run, allocations for teachers will also be cut (making for larger class sizes), and school buildings may even close and consolidate, making for an utterly inhospitable educational environment for YOUR children.
Also, see:
Nutso Emily Convers Crashes Monroe Property Values
Possible Emily Convers Hoax Blows Up In Her Face