It appears Dan Castricone Violated Federal Law During His Congressional Campaign
Dan Castricone seems to be pretty cavalier about violating the law for a guy who went to law school. It also appears he violated quite a few disclosure laws during his congressional campaign. 
The former Allstate Insurance Agent ran on a platform of government openness. He also claimed he was going to stand up against public corruption. Yet, he failed to disclose who paid for his radio show on WTBQ during his congressional campaign. He also failed to disclose the expense to the Federal Elections Commission. So who paid for Castricone's show during his 6-month attempt to unseat Sean Patrick Maloney?
No One Wanted A Congressman Dan Dan Castricone Except For The Cryptic Nazis Of United Monroe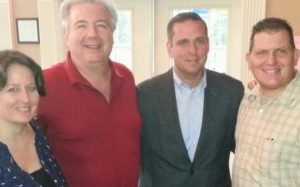 Dan Castricone began telling people he was running for congress in September of 2015. He officially filed on October 13, 2015. 
The leadership of United Monroe and Castricone believed Castricone was a shoe-in to challenge to Sean Maloney. 
It seems like only Emily Convers and Dan Castricone shared that belief. The truth was that the 18th District GOP leaders had already decided Phil Oliva was their guy.
Leadership was still reeling in anger over Castricone almost costing them a seat in the NYS Assembly in 2014.
Castricone ran on the United Monroe ticket for NYS Assembly after losing the Republican primary in 2014. He siphoned off so many GOP voters that he nearly handed a historically solid GOP seat to a Democrat. This boneheaded move by Convers and Castricone is what sealed his fate with the GOP. 
Party leadership also didn't like Castricone's bigoted rhetoric toward the Jews. His continued involvement with Convers' cryptic Nazi PAC United Monroe also further alienated him from GOP leadership.
GOP polling data also showed Castricone's divisive and bigoted rhetoric about the Hasidim was hurting the GOP. It was driving people away from the party.  
Castricone was denied an endorsement from the 18th District Republican Committee in March of last year. 
Castricone's Radio Show On WTBQ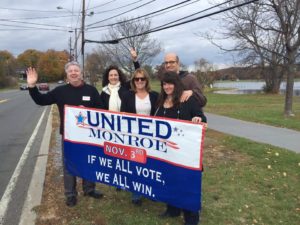 Dan Castricone had one advantage in his congressional race that his opponents did not. He had a 30-minute paid radio show on WTBQ in Warwick. Castricone also heavily advertised his Allstate Insurance Agency on the station. The Thursday show was originally for Castricone to promote his Allstate Agency an hour away in Nanuet. 
The former Allstate Insurance Agent switched the format from insurance to politics after he decided to run for congress. He soon made his congressional campaign the focus of the show. He also cranked up the Jew bashing and cryptic Nazi rhetoric.
The former Allstate Agent would host local Republicans on his show who gleefully endorsed him on the air. He would give out the website address and solicit campaign donations like a televangelist on cocaine. He did this weekly for nearly four months. 
Dan Castricone hosted John Allegro and Emily Convers on his show on January 21, 2016. The three musketeers of anti-Semitism discussed a Jewish conspiracy theory they created. They claimed sitting Congressman Sean Patrick Maloney was secretly in the pocket of Hasidim of Kiryas Joel
The three bigots also claimed the Hasidim were poisoning the Hudson Valley.
Castricone went into full throttle nuttiness on one show. He claimed Muslim immigrants were using the visa system as a backdoor for child brides and arranged marriages. 
Two weeks later, Castricone hosted Chester Town Supervisor Alex Jamieson who encouraged people to come to a Castricone fundraiser. 
Dan Castricone also received an endorsement of local amateur pornographer Bob Krahulik. The 48-year-old attorney was busted for sending out pictures of his penis to 20-something-year-old girls on Facebook in 2014. Krahulik was part of the inner circle of Castricone's campaign.
Who Paid For Castricone's Weekly 30-Minutes Of Campaign Air Time?
Castricone neglected to state on-air who was paying for his 30-minute show as required under federal law.
This negligence could also land WTBQ owner Frank Truatt in hot water with the Federal Communications Commission. The FCC also has a similar rule for broadcasters.
The former Allstate Agent should have known he was required to state who paid for his airtime.
He should also have known this is a big deal. After all, he is a lawyer. Open government and public corruption were also the cornerstones of his congressional campaign. 
He also neglected to disclose the paid WTBQ airtime on his campaign finance reports with the Federal Elections Commission. So the big mystery remains. Who paid for Dan Castricone's air time from October 2015 through March of 2016?
Allstate Insurance And Dan Castricone Part Ways Under A Cloud Of Mystery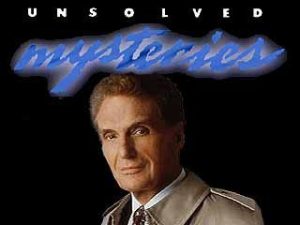 Something odd happened eight months later.
WTBQ stopped airing advertising for Castricone's Allstate Agency. Yet, Castricone still had his 30-minute show on Thursdays.
Dan Castricone also announced he was opening his own law practice and insurance brokerage. He signed up his cryptic Nazi pal Emily Convers as one of his first legal clients.
Allstate Insurance and Dan Castricone had gone their separate ways under a cloud of mystery. What would cause Allstate to pull the plug on an agency started by Castricone's father? An agency that had been in operation for two generations and wrote millions of dollars of policies a year? 
I have spoken to dozens of Allstate Insurance Agents in New York. They all claim they don't know what happened between Allstate and Castricone. The agents have said that Castricone's departure was not only a surprise but a mystery to them as well. 
Veteran insurance brokers believe it was Allstate that forced the departure. They believe Castricone must have done something so egregious Allstate pulled his agency. Why else would someone voluntarily give up a multi-million dollar a year cash cow?
A number of people did claim they were canceling their Allstate policies. They were fed up with Castricone's weekly barrage of United Monroe Jew bashing.
There are several other possibilities and they could all land Castricone in serious trouble. Was Castricone using the money he received from Allstate Insurance for Allstate advertising to promote his congressional campaign? This could explain why he didn't disclose who paid for his show on-air. It would also explain why he didn't disclose it on his FEC disclosures. Castricone could be serious trouble with the New York Bar and the federal government.