United Monroe Leader Emily Convers Charged With Harassment With Physical Contact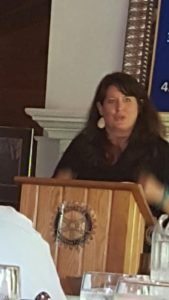 United Monroe Leader Emily Convers has been charged with Harassment in the 2nd Degree-Physical Contact. She faces arraignment on May 2, 2017.
Convers allegedly threw an unknown liquid at Monroe Town Supervisor Harley Doles on February 1, 2017. Consequently, the liquid burned his eyes and blurring his vision.
Convers is accused of violating NY Penal Code Section 240.26. The code describes Harassment in the 2nd Degree:
A person is guilty of harassment in the second degree when, with intent to harass, annoy or alarm another person:
1. He or she strikes, shoves, kicks or otherwise subjects such other person to physical contact, or attempts or threatens to do the same; or
2. He or she follows a person in or about a public place or places; or
3. He or she engages in a course of conduct or repeatedly commits acts which alarm or seriously annoy such other person and which serve no legitimate purpose.
Neophyte lawyer and former Allstate Insurance Agent Dan Castricone is representing Emily Convers.
Dan Castricone was an Allstate Insurance Agent for nearly 30 years until December of 2016. Allstate Insurance and Castricone parted ways in a cloud of mystery.
Castricone and Convers have a political relationship with both County Executive Steve Neuhaus and DA David Hoovler. As a result, they are hoping to get preferential treatment by the court at Convers' arraignment hearing. 
Castricone and Convers have been attempting to remove Doles as Monroe Supervisor for nearly four years. The two cryptic Nazis have also made a plethora of unhinged allegations against Doles including bribery and voter fraud. The FBI and the State of New York found no evidence of wrongdoing.