American Legion Post 488 Rents Hall To Cryptic Nazi Cult For Satanic Ritual To Conjure The Dead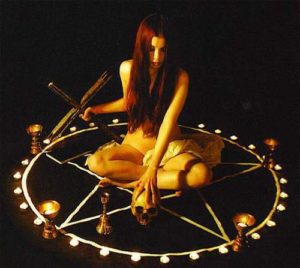 American Legion Post 488 in Monroe NY has rented their hall to a cryptic Nazi group that wants to conjure the dead for a fundraiser.
Horrified veterans and residents are furious. They have contacted American Legion HQ In Indianapolis to express their anger over the April 25th event.
Preserve Hudson Valley is the group at the center of the controversy. Preserve Hudson Valley is a front group for a local cryptic Nazi cult.
The event features local occultist Deborah Hanlon.
For $50.00, Hanlon promises to conjure the spirits of your dead relatives or associates according to Preserve Hudson Valley's Facebook page.
Hanlon travels throughout the Hudson Valley promoting her abilities in the satanic arts of talking to dead people.
She also teaches Yoga and a bizarre form of meditation at The Center For Being, Knowing, Doing in Newburgh, NY. 
Hanlon claims she has an interest in religion, physics and the natural order of the universe. She also claims she studied numerous world religions throughout her life. In addition, she claims she had a 2nd minor in Religion in college. Yet, she makes no mention of what religions she has studied. She also makes no mention of what colleges she attended or if she even graduated.
Who Is Preserve Hudson Valley? 
Let's call Preserve Hudson Valley what it is. It's is faux charity. United Monroe, the local cryptic Nazi group uses it as a front group to mask their benefactors.
United Monroe was originally created as a Political Action Committee. It had one problem. It needed a way to hide the identities of their donors.
PAC donors are public record. Leaders of United Monroe created the eco-friendly sounding not-for-profit Preserve Hudson Valley as the solution. 
Convers and her group of unhinged cryptic Nazi thugs don't just harass, stalk and cyber bully local politicians. United Monroe thugs also post memes on the internet promoting Jewish stereotypes and bigotry. 
Consequently, the cryptic Nazi rhetoric and the blatant anti-Semitism of United Monroe has resulted in outbreaks of intimidation and violence.
Someone desecrated Temple Beth Shalom in Warwick the weekend before Yom Kippur last year. 
Vandals spray-painted swastikas on the walls that the gates of the cemetery. They also scrawled the words "Heil Hitler" and the letters "SS," on the walls of the cemetery.
It appears the cryptic Nazi rhetoric used by United Monroe is already crashing Monroe property values
Real estate data shows people would rather live next door to a group of Hasidic Jews than cryptic Nazis. 
American Legion Post 488 President Laurene Sandstrom Openly Supports United Monroe Bigoted Thuggery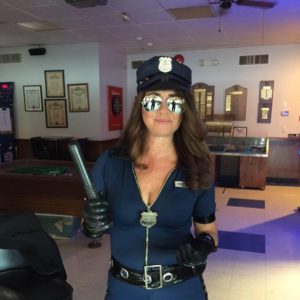 I could never figure out why American Legion Post 488 President Laurene Sandstorm would go batshit crazy when asked about United Monroe.
In September of last year, I asked her why Post 488 would rent the hall to a local political hate group. 
Sandstorm became unhinged. She began attacking my patriotism and making other equally bizarre claims about me in a profanity-ridden psychotic rant.
She also claimed I had no right to "bitch" about who she rents the hall to because I never wore a military uniform. 
Sandstrom also claimed that because she was an Army MP in former West Germany she is "beyond reproach."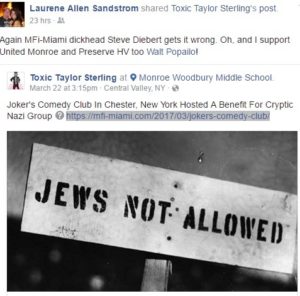 It seems like Sandstrom believes busting up bar fights between drunken U.S. soldiers in off-limits bars in a country that no longer exists gives her special status. 
She then began a two-week barrage of posting profanity-laced comments about me on Facebook pages I administered. I had to ban her from the pages because it became I began getting complaints.
About two weeks ago, Laurene Sandstrom shared an article on Facebook I wrote about Joker's Comedy Club sponsoring a benefit for United Monroe/Preserve Hudson Valley.
Sandstrom decided to add her own colorful commentary to the post about me and the article. Those two sentences explain her behavior.  In the post she proudly proclaims her support for United Monroe and their Nazi style thuggery.