Joker's Comedy Club In Chester, New York Hosted A Benefit For Cryptic Nazi Group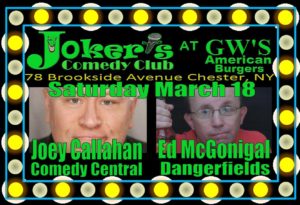 Did you miss the Preserve Hudson Valley fundraiser at Joker's Comedy Club? Don't worry. You are not alone. The club was practically empty on Saturday.
Sources say less than 15 people showed up. Sources also say the event only brought in a paltry $200.
The fundraiser was to raise money for a faux charity created by members of United Monroe. The Jew bashing group created Preserve Hudson Valley as a non-profit to hide the individuals and groups funding their political and legal activities. 
Members of the hate group also hoped to broaden the group's appeal by making the group appear to be promoting ecology and the environment. 
United Monroe is an alt-right political group that has a history of hate speech against Hasidic Jews. 
United Monroe also employs Nazi-style bullying and smear campaigns against anyone who opposes their agenda. In addition, members of United Monroe also like to promote absurd allegations against local politicians. They make bogus allegations of voter fraud and kickbacks. All of which have been debunked by federal and state investigators. 
United Monroe also has a history of filing frivolous lawsuits against local governments. United Monroe's latest crusade is against the expansion of the Village of Kiryas Joel. They are attempting to raise money for another futile legal appeal to block the 164-acre expansion of Kiryas Joel. 
Why Would Joker's Comedy Club Support A Right Wing Fringe Group?
Joker's Comedy Club is owned by Walter Popailo. 
Popailo openly supports United Monroe's political cause to the point he embraces their tactics. He has also held multiple fundraisers for them at his club. 
In addition, he is also personal friends with Emily Convers and John Allegro. 
Walter Popailo is also Parks Director for the Town of Chester, New York. Township Supervisor Alex Jamieson appointed Popailo as Parks Director last year. He did this in return for Popailo's support during Jamieson's political campaign. 
Alex Jamieson also shares United Monroe's cryptic Nazi views when it comes to the Hasidic Jews of Kiryas Joel. 
Jamieson pushed the Town of Chester to be one of the first municipalities in Orange County to join the futile United Monroe/Preserve Hudson Valley lawsuit to stop Kiryas Joel's annexation of 164 acres of land from the Town of Monroe.
The Town of Chester dropped out of the Kiryas Joel lawsuit after United Monroe/Preserve Hudson Valley last the first round of appeals. Jamieson apparently feels the battle is futile at this point and has said Chester will not be joining any future appeals.