Racist Pundit Laura Ingraham Bounced $42,000 Check To Associated Press Trying To Save Floundering LifeZette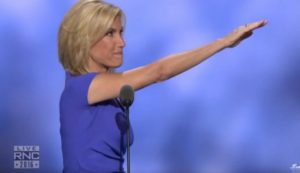 The Associated Press is suing right-wing racist pundit Laura Ingraham for nearly $50,000. Laura Ingraham allegedly bounced a large check meant to cover unpaid licensing fees and lost revenue to AP.
Ingraham's fake news site LifeZette agreed to a year-long commitment for access to AP's content starting with the site's launch in July 2015. The agreement was for $4,200 a month. The AP suspended LifeZette's access to its content for nonpayment seven months later.
Ingraham Media Group Inc. submitted a check in the amount of $42,611 in January. The check allegedly bounced. It was after the check bounced that AP took legal action and filed the complaint on Friday.
The AP is suing for $49,267. That amount includes $24,937.21 for unpaid fees. It also includes $17,674.50 for the lost revenue. AP claims it lost after it was forced to suspend LifeZette's account. AP is also seeking additional funds in interest and attorney fees.
Laura Ingraham launched LifeZette in March of 2015. The goal of LifeZette was to provide conservative readers a one-stop news source. The website found itself drowned out by right-wing outlets. As a result, it found itself deep in debt.  
LifeZette is best known for pushing 'fake news' stories. The site became famous for pushing murder conspiracies surrounding Hillary Clinton. 
LifeZette also produced a video titled "Clinton Body Count."
The video has a correspondent stating:
And since the 2016 election cycle began, at least three more people with connections to Bill and Hillary have joined that list, sparking a renewed interest in the so-called body count of people who allegedly got in the way of the Clinton machine.