Stunning Russian Student Anastasia Tsirenschikova Busted In $148 Million Tax Fraud Scheme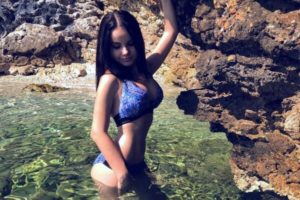 Anastasia Tsirenschikova was due to graduate from the Plekhanov Russian University of Economics in Moscow later this year. Rather, the 22-year old stunning Russian student will miss graduation while she remains in a Moscow jail.
Tsirenschikova and four others allegedly helped Russian businessmen hide $148 million into overseas tax havens.
The stunning Russian student told Russian authorities that Mikhail Gomma was the group's leader. Gomma is a former employee of Russia's Credit-Moscow Bank. Tsirenschikova told police that she originally met Gomma through a female friend.
Tsirenschikova denied being involved in the scheme.
Russian authorities didn't buy her claim because Tsirenschikova had posted pictures of her flaunting her champagne lifestyle on social media.
She posted pictures of her sipping champagne in a glamorous evening dress on a beach. She also posted pictures of her draping her legs over the side of an open-topped car. In addition, she posted pictures of herself enjoying cocktails and eating oysters at a high-class restaurant.
Furthermore, she was even seen cuddling a lion cub. A lion cub is one of the ultimate status symbols in Russia.
The group helped thousands of Russians illegally shift funds overseas. The gang charged a 2.5% commission for their services. The commission fee netted the gang an estimated 225 million Russian rubles ($3.6 million) each.