Rudy Giuliani Endorsed Company Fined $100 Million By The Federal Trade Commission For Scamming Customers
Rudy Giuliani may be famous as America's Mayor but he was also a famous late-night TV pitchman. He was paid to make people believe Pakistani internet hackers were plotting to steal their identity. Rudy Giuliani was the perfect pitchman for identity theft protection company LifeLock. He used his skills as a former tough guy federal prosecutor to scare people into buying the company's product.
Todd Davis, the CEO Of Lifelock became famous for advertising his Social Security number on television and billboards. Davis even offered a $1 million guarantee to customers if they became a victim of identity theft after signing up with the company.
Todd Davis and Lifelock used a practice of placing fraud alerts on customer's credit accounts with the three credit reporting agencies. As a result, the company claimed thieves would not be able to open unauthorized credit or bank accounts in their name.
LifeLock Busted For Not Doing What They Promised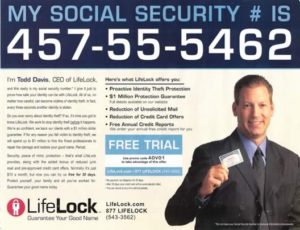 Lifelock also promised customers that sensitive data they provided the company would be encrypted and protected. Todd Davis claimed information would be only accessible by authorized employees on a need-to-know basis. LifeLock did not encrypt any information and also had poor password management practices for employees and vendors. Lifelock also failed to limit access to sensitive data to only people who needed access.
Giuliani was pitching a scam. LifeLock was ordered to pay $100 million in fines to the Federal Trade Commission. LifeLock's fine is also one of the largest fines in the history of the FTC. As a result of the fine, the majority of that settlement will go back to the consumers who were scammed.
Customers complained that their banks and credit card companies offered better protections than LifeLock. Consumers also said that in most cases offered the services for free. LifeLock customers also said LifeLock makes it nearly impossible to cancel memberships.  Customers complained that LifeLock would continue to bill them long after they canceled service.
This Isn't The First Time LifeLock Has Ben Busted By the FTC
The FTC has sued LifeLock once before in 2010. The FTC sued LifeLock due to broken promises that it would protect personal data and inform users of any signs of identity invasion.
FTC Chairman Jon Leibowitz said in 2010:
The protection they provided left such a large hole that you could drive that truck through it. 
Leibowitz said the promises made by LifeLock were deceptive because thieves could still rack up unauthorized charges on existing accounts. He also said LifeLock couldn't prevent thieves from obtaining a loan in a Lifelock customer's name.
Todd Davis became an identity theft victim when a thief used his widely advertised Social Security number to obtain a $500 loan.
LifeLock apparently did not learn from that legal $12 million fine in 2010, because in 2015, they were in trouble again.
The FTC charged LifeLock with failing to put adequate data protections in place for Social Security numbers, credit card numbers, and bank accounts. LifeLock also falsely claimed that it had security systems that were as strong as financial institutions. The FTC also claimed LifeLock failed to fulfill a promise that it would inform users when their data was breached.
Todd Davis and LifeLock claimed the allegations raised by the FTC were related to advertisements that they no longer ran. In addition, LifeLock also claimed that the allegations are based on policies that are also no longer in place. Todd Davis claims:
"The settlement does not require us to change any of our current products or practices."  
Todd Davis and LifeLock don't seem to understand that it may be a good idea to change their business model after paying $112 million in fines.