Is Miami Judicial Candidate Marcia Del Rey Financing Her Campaign With Proceeds From Her Miami Sex Hotel Empire?
Voters in Miami could soon have a Miami Sex Hotel Entrepreneur sitting on the bench. Miami Sex Hotel Entrepreneur Marcia Del Rey is running for Judge in the 11th Judicial Circuit. Del Rey and her brother are funding it from revenue from their Miami sex hotel empire.
Del Rey and her brother Julio Del Rey own Tropical Gardens Investments. Tropic Gardens Investments owns or is a partner in at least nine "sex-themed" hotels in Miami.
Executive Fantasy Hotels
Miami Sex Hotel Entrepreneurs proudly display their properties on their website Executive Fantasy Hotels. The website also features cheesy soft core porn music.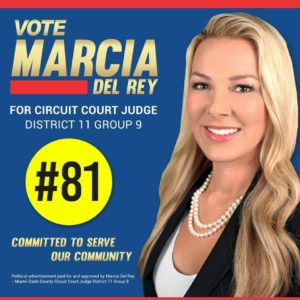 Julio and Marcia Del Rey have an ownership interest in the Executive Airport Hotel and Executive Tropic Garden Hotel. They also have an ownership interest in Hotel Presidente, the La Fuente Motels, and the Executive Grant Emperor Hotel. In addition, they also own the Mansion Motel, Executive Miami Hotel, and Paraiso Hotel.
The Miami Sex Hotel Entrepreneurs spent thousands of dollars on market research. The rooms attached to private garages.
As much as their hourly rate sex-themed hotels may be a great venue for adventures in infidelity and afternoon delights, the hotels are also hotbeds for prostitution, and sex trafficking.
The legal line between prostitution and trafficking is blurry when it comes to adults.
The Miami Sex Hotel Entrepreneurs have had their share of prostitution arrests made at their hotels.
Sex Trafficking at Paraiso Motel
The State Attorney's Office in Miami-Dade County charged four men with human trafficking and unlawful sex with a minor in May 2015. These events took place at the Paraiso Motel owned by Julio and Marcia Del Rey.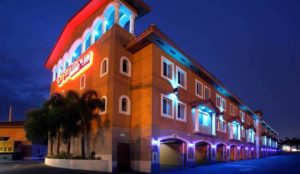 The 17-year old victim told police that William Betancourt and Freddy Rodriguez picked her up in a park to have sex for money. The 17-year-old victim was unaware of the financial arrangement. The girl alleged she was forced to take a shower with an uncle of Betancourt. Betancourt told police his uncle and Elial Izquierdo-Alcala were going to pay him $400 to have sex with the girl. The teen had sex with both men. She also stated she never received any money.
The victim alleges Betancourt, Rodriguez, and Carlos Cazares took her to the El Paraiso Motel in November of 2014 and engaged in sex with her.
Three of the men were arrested for another incident involving a 13-year-old girl.
The three men were accused of getting the 13-year-old high on drugs and then having sex with her in December of 2014.
The State Attorney's Office did not find Executive Fantasy Hotels complicit in these crimes.
Marcia Del Rey's Ownership Interests In The Miami Sex Hotel Empire
The Miami Sex Hotel Entrepreneur's assets include Tropic Gardens Investments valued at $2.4 million according to financial disclosures from May 2016. Marcia Del Rey is also a 33% owner with her brother Julio Del Rey Jr. of the Executive Tropic Garden Hotel. She also reports income from Resorts of Dade, Incorporated. Marcia Del Rey also shows income from businesses in Puerto Rico.
Marcia Del Rey's sex-hotel holding companies are directly funding her campaign according to public records
The Miami Sex Hotel Entrepreneurs have also given quite handsomely to Miami-Dade Mayoral Candidate Raquel Regalado. Regalado has received $25,000 from the Executive Fantasy Hotels.
In addition to Regalado, Julio Del Rey has contributed $185,000 to a PAC named Stand Up to Violence. Stand Up To Violence which has spent $48,760 on media for Marcia Del Rey's campaign materials.
Potential Conflict of Interest For Marcia Del Rey
Critics say Marcia Del Rey would face a conflict of interest in prostitution or human trafficking cases. Critics ask if owning a chain of sex hotels would affect Del Rey's decisions. Especially when it came time to granting search warrants in prostitution or trafficking cases.
Imagine the impact if Marcia Del Rey became a subject of a human trafficking or prostitution bust at one of her hotels.