Chris Christie Has Turned New Jersey's Student Loan Program Into A State Sanctioned Loan Sharking Operation 
People almost always think of two things when they think of New Jersey. They think of fictional mob boss Tony Soprano and Governor Chris Christie. You would never think a former federal prosecutor like Chris Christie would dabble in mafia businesses like loan sharking. Yet, critics say Christie's administration is doing exactly that. Critics claim Christie has turned the New Jersey's Higher Education Student Assistance Authority (HESAA) into a state-sanctioned loan sharking operation.
 Son Murdered? Fuck You! Pay Me!  
Kevin DeOliveira was murdered during an armed robbery in Vermont in January 2015. The yet unsolved murder left his mother Marcia DeOliveira-Longinetti in shock. In addition to her grief, DeOliveira-Longinetti also had to deal with Kevin's student loans. 
Sallie Mae assured DeOliveira-Longinetti her son's balances would be written off. The Sallie Mae administrator even offered her condolences.
Kevin had also had a loan from HESAA. HESAA sent a shocking letter to the grieving mother. The letter DeOliveira-Longinetti received stated:
Please accept our condolences on your loss. After careful consideration of the information you provided, the Authority has determined that your request does not meet the threshold for loan forgiveness. Monthly bill statements will continue to be sent to you.
Kevin's mother co-signed on his HESAA loan and she was employed. Therefore, HESAA saw no reason why the loan should be written off. 
Agency Overseen By Chris Christie Shakes Down And Harasses Cancer Victim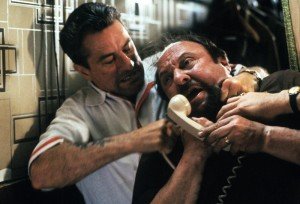 Chris Gonzalez used his loans from the HESAA to earn an engineering degree from Embry-Riddle Aeronautical University in Florida. Gonzalez landed a job working as a programmer for Goldman Sachs soon after graduating.
Doctors diagnosed Chris Gonzalez with non-Hodgkin's lymphoma after starting at Goldman Sachs and was laid off from Goldman Sach during his cancer treatments.
Gonzalez managed to talk his federal student loan agencies and his private lenders into deferring his payments because of his cancer. HESAA refused and they pursued Gonzalez with the zeal of Chris Christie at an All-You-Can-Eat Chinese buffet. 
Gonzalez moved to Florida due to his health after losing his job. HESAA pursued Gonzalez to Florida in their bloodthirsty pursuit to get their money. Gonzalez feared what HESAA would do to his credit rating. So Gonzalez canceled his health insurance and quit taking his medication and began paying HESAA $200 a month. Yet, HESAA refused this arrangement and demanded more even money. 
HESAA eventually sued Gonzalez with the agency demanding over $260,000. The lawsuit included nearly $34,000 in interest and $44,000 for the collection agency's lawyer. 
State Sanctioned Loan Sharking
HESAA loans have extraordinarily stringent lending terms and unusually high rates of interest. Critics like bankruptcy attorney Daniel Frischberg argue HESAA terms that go beyond anything considered predatory. Frischberg also compares it to state-sanctioned loansharking.
HESAA and their heavy-handed debt collection practices are unique. The government agency does not offer debt forgiveness nor do they allow any types of deferments. HESAA also refuses to modify the terms of loan agreements due to disability or as Marcia DeOliveira-Longinetti discovered death.
New Jersey is unique because other states that offer state-funded student loan assistance like Massachusetts will automatically cancel the debt if a borrower becomes disabled or dies.
HESAA loans also carry an unusually high rate of interest at 8%. The HESAA interest rate is 175% higher than the rate offered by other states that offer similar programs. Texas is the only other state that offers a flat interest rate (4.5%) while most states offer income-based repayment plans. HESAA interest rates are also higher than most private student loans charge between 5% to 5.5% interest rate.
The Chris Christie Knuckle Crushers
The agency has the weight of the state of New Jersey behind it which allows it to bypass the judicial system. New Jersey can garnish wages, rescind state income tax refunds, revoke professional licenses and revoke drivers licenses. The state can do this without the need of court approval. 
When students apply for assistance through HESAA, the agency pushes students to buy life insurance from a HESAA sponsored insurance company. This makes it easier for HESAA to collect a loan payoff in the event the borrower dies or becomes disabled. After all, the last thing your grieving family wants is Chris Christie to send HESAA knuckle crushers Rocco and Gianni to the funeral home. 
HESAA Chief of Staff Marcia Karrow claims federal regulations prohibit the agency from offering debt relief. Marcia Karrow also justifies the use of mafia-style tactics because of the federal regulations.
Financial Aid Expert Mark Kantrowitz disputes this claim:
There is nothing in federal law or in federal regulations that prohibit the state from offering private loan rehabilitation," 
Karrow also admitted that HESAA, "must also meet our fiduciary duty to our bondholders."
Moody's recently praised HESAA collection efforts and gave HESAA bonds a high investment grade of an Aa2 on a recent review. Moody's cited HESAA's "wage garnishing" which Moody's states HESAA uses "aggressively" for "significantly higher collections".
Chris Christie Attempts To Pull A Sgt. Schultz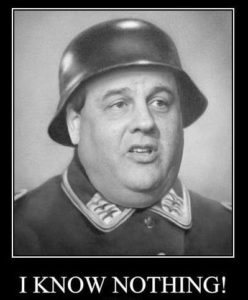 Chris Christie's office claims the governor does not control the actions of HESAA. Christie's office also claims Christie doesn't have any influence over it. As much as he may want people to believe this, Christie is not being entirely truthful.
Chris Christie appointed Gabrielle Charette as HESAA Executive Director. Christie also has the power to appoint at least 12 of the agency's 18 board members and he can also veto any action taken by the board.
Chris Christie's attempts to pull a Sargeant Schultz act over the abuses of HESAA are pretty transparent. Christie's primary goal here is simple. Christie needs to keep Wall street happy. The rotund governor has his eye on the White House and he needs cash from Wall Street to do it. Christie isn't afraid to use his political appointees as a taxpayer-funded goon squad.