The Austrian Government Draws Up Plan To Seize Ownership Of The House Where Adolf Hitler Was Born
The birthplace of Adolf Hitler will soon become the property of the Austrian government. Austria's Interior Ministry says it has drawn up a draft law that would allow the government to take ownership.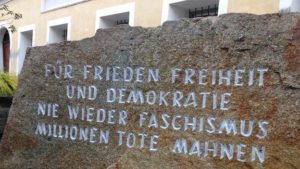 The birthplace of Adolf Hitler is located in the town of Braunau am Inn on the German border. Gerlinde Pommer who currently owns the empty building has refused multiple offers to sell the property.
The house is unmarked except for a large granite tablet. The granite tablet was placed in front of the house in 1989. The granite tablet also contains an engraving written in German. The English translation of the engraving says, "For peace, freedom, and democracy, never again Fascism, millions of dead admonish."
The government sought possession of the birthplace of Adolf Hitler because it hopes to lessen the building's attractiveness as a shrine for the former Nazi dictator. As a result, the town fully supports the government's actions to seize the property.
Parliament must still pass the draft law. The ruling Social Democratic Party has a majority in parliament and as a result party leaders believe they can get parliament to pass the law. The Interior Ministry believes that the SDP will have no problem getting the support of most opposition parties.
Interior Ministry spokesman Karl-Heinz Grundboeck says he expects parliament to vote sometime this year. The government is considerating a range of options for the property. The government is considering everything from tearing down the house to turning it into a museum dedicated to Nazi horrors.