It Seems Like Florida AG Pam Bondi Solicited A Bribe From Donald Trump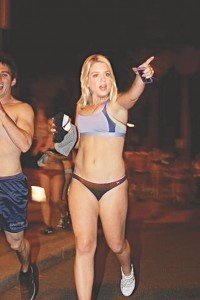 It appears Florida AG Pam Bondi openly solicited a donation from Donald Trump. Trump made a contribution to her PACs named And Justice for All. The payment was in order to drop the investigation into the Trump University scam. 
Bondi thought it would be great public relations to follow New York AG Eric Schneiderman's lead by investigating Donald Trump's fake university.
Schneiderman's $40 million lawsuit claims that the fake university promised to make students rich. It did the opposite. It steered students into expensive and mostly useless seminars.
Trump University also advertised nationwide "free workshops" taught by instructors handpicked by Donald Trump. Trump later testified he did not pick the instructors. 
Trump's fake university also promised apprenticeships that were never delivered. 
Is Pam Bondi Crooked Or Just Dumb?
As I wrote about in October 2013:
On September 13, 2013, after being informed that several of the complaints included in Schneiderman's lawsuit were from Florida residents and discovering dozens of complaints were filed with the Florida Attorney General's office under the leadership of her predecessor, Bill McCollum, Bondi announced she was launching an investigation into Trump Institute and to see if Florida would join New York in a multi-state action.
Four days after Bondi announced she was launching an investigation, Donald Trump gave her a nice $25,000 donation to her campaign committee. Bondi has announced she plans to run for a second term in next year's statewide election."
Trump is now running for President and the Trump University scam is heading to trial.
AP reported that Bondi admitted she solicited a contribution from Trump. She also admitted she solicited it after she announced the launch of her investigation into Trump University.
"Florida's attorney general personally solicited a political contribution from Donald Trump around the same time her office deliberated joining an investigation of alleged fraud at Trump University and its affiliates
The money came from a Trump family foundation in apparent violation of rules surrounding political activities by charities. A political group backing Bondi's re-election called And Justice for All, reported receiving the check Sept. 17, 2013 — four days after Bondi's office publicly announced she was considering joining a New York state probe of Trump University's activities."
Florida AG Pam Bondi then nixed the investigation into Trump University. 
Trump Brags About Bribing Politicians
Donald Trump has also openly bragged about expecting and receiving favors from politicians he gives money to. At an Iowa rally in January, "When I want something I get it. When I call, they kiss my ass. It's true."
Hence, Trump himself has donated $253,500 to Florida politicians since 1999 in addition to the money to Bondi. Trump has given most of his money to Republican candidates, the state party or political committees affiliated with the GOP.
Trump's daughter, Ivanka, also gave a $500 check to Bondi a week before her father's money came in. As well as another $25,000 to the Republican Party of Florida the following year.