WTBQ Forsakes Leo Kaytes Ford. Tells Listeners To Go Check Out Healey Brothers Auto Group To Win Free NASCAR Booze 
Has WTBQ forsaken Leo Kaytes Ford? Leo Kaytes Ford is WTBQ's last major advertisers. If so, it could be the beginning of the end of the 500-watt misfit infomercial station. The station is known for giving shows to Jew bashing bigots and known sexual deviants. 
Leo Kaytes Ford has stuck by WTBQ through thick and thin. They have advertised on the struggling station even with all of Station Manager Taylor Sterling's borderline psychotic antics. 
Sterling posted this bizarre and incoherent post on WTBQ's Facebook page on Tuesday. It was part of a free advertising campaign for Healey Brothers Automotive Group. The ad tells listeners to go to Healey Brothers Automotive Group for a chance to win tickets to a NASCAR event. It also promotes the opportunity to get inebriated on free booze at a family oriented NASCAR event.
The Free Promotion For Healey Brothers
"WTBQ AM FM (#1) is having a major promotion with the NASCAR (WTBQ is the Exclusive Broadcaster for NASCAR in the Hudson Valley & Northern New Jersey) bringing up the Chevy Pace Car at Healy Bros Chevy. WTBQ will be giving some very lucky person 2 Tower tickets to the Pocono raceway valued at $500 and that includes all the food and drink you can eat and imbibe. The Tower seats are the best seats at the Pocono Race Track with an overhang and view of the entire track.
The contest is May 25yth between 4-6pm- all the contestants need to do is show up between those hours and fill out a raffle ticket which will be drawn at 6pm and you do not have to stay once you fill out the ticket! They will take photos with and in the NASCAR Pocono pace car which is being driven up from Pocono just for the WTBQ and Healy Brothers Chevy's promotion. WTBQ is also adding show tickets to NYC to be given away to #2 and #3 winners….If you would like to be a partner let us know. call 845-651-1110 ask for Taylor or email WTBQtaylor@optonline.net. Once in a lifetime opportunity!"
The Promotion Is A Slap In The Face To Leo Kaytes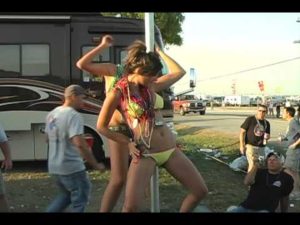 The promotion is also a slap in the face to an octogenarian pillar of the Warwick Valley. Leo Kaytes has been one of WTBQ's biggest boosters.
In addition, this ad is an embarrassment to WTBQ, Healey Brothers Automotive Group and NASCAR. 
Sterling's incoherent writing style means she has either lost her mind or was hopped up on drugs when she wrote it.
She also misspelled the host's name.
Who would encourage people to enter a drawing for a chance to get inebriated on free booze at a family oriented event?
An arena of drunks is not an image NASCAR wants nor is it one NASCAR wants to promote. Sterling and Truatt with their ties to both MRN and NASCAR should know this. This is just another reason for MRN to pull NASCAR from WTBQ.
Sterling also forgot to mention which Healey Brothers location was holding the event. Healey Brothers have two dealerships that sell Chevrolets.  
Several NASCAR aficionados emailed MFI-Miami about the post. They indicated Sterling posted the wrong picture of a Pace Car. Sterling used a picture of the 2014 Pace Car not the 2016 Pace Car. Yes, Taylor, these things matter to people who follow NASCAR.