United Monroe Leader Emily Convers Pens Gushing Love Letter To Failed Jew Bashing Political Gastropod Dan Castri-Clown
United Monroe Leader Emily Convers penned an over the top gushing love letter to GOP political clown Dan Castricone.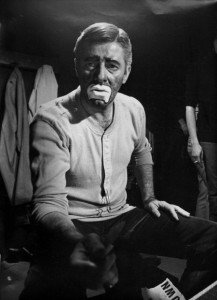 The open letter from the leader of the cryptic Nazi group was posted on the United Monroe Facebook page a few days ago.
The letter shows the Nazi PAC United Monroe is falling apart. This is due to United Monroe Leader Emily Convers' histrionic and cryptic Nazi behavior. Convers has a history of bullying politicians and threatening to file frivolous lawsuits against people. question her.
Convers leaves out some important facts about Dan Castricone in her gushing Tiger Beat-style love letter. The omitted items show Castricone is nothing more than a political gastropod who couldn't win a bronze medal at the Special Olympics. 
Castricone's Ties With The United Monroe Leader Have Hurt Him With GOP Leadership
Convers writes:
Dan Castricone ran on the United Monroe line only in 2014 for State Assembly. He received 9,000 votes on a third party line. This is unheard of. Dan received more votes than the major party leaders in Albany ever imagined.
Castricone ran on the United Monroe ticket for NYS Assembly after being rejected by the GOP leadership. He did pull an impressive 9000 votes. Yet, he also siphoned off so many GOP voters that he nearly handed a historically solid GOP seat to a KJ backed Democrat. This boneheaded move by Convers and Castricone is what sealed his fate with the GOP. 
United Monroe Leader Emily Convers And Her Paranoia Of Jews
She also writes:
In 2015, Dan was enthusiastically drafted by those of us who know, love and trust him, to run for Congress. Dan, having already proven to be a force for representing the interests of all of the Orange County residents, for good government, and one who would stand up against special interests, was a shoo-in for the Republican nomination to unseat Maloney.
Dan's campaign for Congress was off to a great start. He won the UM nomination, the endorsement of the County Executive and Assemblyman Brabenec, right out of the gate. But something happened along the way."
"Kiryas Joel leaders were sending a very different message to party officials. The message was this: ANYONE BUT Dan Castricone."
The Republican party pulled the rug out from under Dan at the convention.
But, the threat by KJ of "anyone but Dan", was too much for the Orange County Republican power brokers to handle. Many voted instead for Westchester native, Phil Oliva, who won the party nomination. Too many Republicans rely on KJ's support in the big races in NY and Orange County."
Convers ignores the fact that Orange County Executive Steve Neuhaus works for Castricone's Allstate Agency as a Business Development Coordinator. 
Castricone Had No Chance OF Beating Maloney
Convers' claim that Castricone was a shoo-in to challenge to Sean Maloney only exists in the imaginations of Emily Convers and Dan Castricone. The truth is that the 18th District GOP leaders were already expressing an interest in Phil Oliva. Long before Castricone announced his candidacy. Party leaders often refer to Castricone as Castri-clown behind his back.
Leaders of Kiryas Joel did not influence the GOP leadership to abandon Castricone at the convention. GOP leadership denied Castricone the nomination based on his bigoted rhetoric. Castricone's continued involvement with Convers' cryptic Nazi PAC United Monroe further alienated Castricone from the GOP leadership. GOP polling data showed Castricone's divisive rhetoric was hurting the GOP. It was driving people away from the party. In other words, the cryptic Nazi PAC United Monroe has been and is its own worse enemy.   
Regardless of who wins the GOP nomination, the candidate faces a seriously uphill battle against incumbent Democrat Sean Maloney.
Maloney already had a $1.5 million war chest when Castricone began putting his campaign together.
The 18th District also has a 55% Democratic base and it's a presidential election year which means Democrats come out to vote in droves. The RNC announced NY GOP candidates were on their own in November. 
Convers Can't Handle Being A Failure
Converse, the leader of the cryptic Nazi PAC United Monroe, then begins pointing fingers at who is to blame for all the division in Orange County over Kiryas Joel expansion without taking any responsibility for her or Castricone's cryptic Nazi rhetoric or paranoia. 
We need to work together, as a bloc, to elect those who stand up for us against corruption, against a government who doesn't follow basic municipal law, who violates the environmental code, who divides and attacks. We need to work together for a sustainable future by voting as one, county wide.
On United Monroe's Pravda style propaganda website where all the posts are made anonymously, members of the cryptic Nazi PAC United Monroe openly complain that they can't receive any positive media coverage because the mainstream media cannot confirm any of their claims of political corruption or any of their other histrionic and bigoted claims.