WTBQ Host Taylor Sterling Has Egg On Her Face After Trash-Talking Local Business On The Air For Refusing To Advertise On WTBQ
Vile And Catty WTBQ Host Taylor Sterling has some serious egg to clean off her face this week. Sterling told listeners of the Frank Truatt Morning Show not to patronize the popular Halligan's Public House in Warwick.
The incident happened during Frank Truatt's morning show on March 10th. Frank began talking about the great service of The Computer Guy. The business is a small computer repair company in Warwick. The Computer Guy's business is kind of hard to find if you don't know your way around Warwick. Frank tells his audience that The Computer Guy is next to Halligan's Public House because everyone knows Halligan's Public House
Consequently Truatt's station manager and girlfriend Taylor Sterling tells listeners not to patronize Halligan's Public House. Halligan's is owned by retired fire fighters.
The retired firemen don't advertise on WTBQ. As a result, they found thmselves in the cross hairs of the vile and catty Taylor Sterling.
Local members of the Warwick Valley Chamber of Commerce were shocked that Sterling would say such horrible thing. One member stated on social media:
"Aren't Frank and Taylor members of the Warwick Valley Chambers of Commerce? If so, it makes the COC look bad. The both of them should know better not to put a local business down because the business won't advertise on the station. Its bad radio etiquette!!! If they keep this up, the station may not last!!!"
Sterling's Comments Upset Local Residents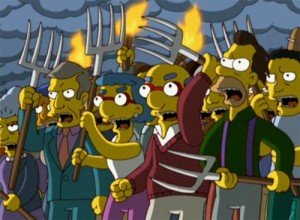 Sterling's comments did not sit well with local residents. Residents from Warwick and surrounding communities were extremely upset with the "community" radio station. They weren't happy that Sterling would bash restaurants like Halligan's who are known for their community involvement. 
Even other radio station owners were aghast that Frank Truatt would allow such comments. Radio station owner, Leighton Nickerson wrote:
I'm a radio station owner, my stations don't trash talk about any businesses. These folks are a disgrace.
A fan of Halligan's also wrote: 
Completely ridiculous! Glad both restaurants are classy enough not to advertise on a station that is trash!"
And one person from Newburgh wrote:
WTB-WHO? Real media professionals don't behave this way. Wouldn't surprise me to see what advertisers they do have flee to other stations.
In addition,  another fan of Halligan's wrote:
I have eaten at Halligans more times then I can remember. The food is awesome!! So is the atmosphere and staff. Shame on WTBQ.
And one person wants Sterling removed from a leadership role with Warwick Valley Chamber of Commerce:
Wow! If this is true and this is how they do business here in Warwick then I would hope the Chamber of Commerce takes swift action to remove her from the board. The station should ask for her resignation as well and they should formally apologize. Halligan's Warwick does not need WTBQ by any stretch of the imagination but should not be punished for it.
It looks like WTBQ lost one of it's last listeners outside of Liberty Green:
I cannot/will not listen to Sterling in the morning.
Is Taylor Sterling A Twatwaffle?
Furthermore, one Warwick resident coined the name "Twatwaffle" to describe the WTBQ host:
"Really? I am majorly disgusted by what I just read. Brings her own food to a restaurant hosting a meeting? This is more than bad tactics and more than insulting. Clearly, it's her way or no way which is only indicative of the spoiled bratty nature by which she was raised. No grown adult and business person would ever dare treat others that way. Just don't eat the damn food when you are at the Landmark Inn. To make such a presentation of being an insulting twatwaffle is just beyond compare. And yes. Halligans is a great place. I will definitely be going more often."
Another wrote, "Time for Orange County to send Sterling packing……"
It looks like one Warwick resident will also no longer be listening to WTBQ. He wrote:
Halligan's needs no radio advertising. I have been patronizing Halligans for years. Their food is great, their prices are reasonable and their staff is the best in the business. Taylor Sterling is out of her mind. Ignore WTBQ.
It looks like WTBQ isn't as community oriented as Frank Truatt and Taylor Sterling like to make it sound on the air. One Sugar Loaf resident wrote, "Who is Taylor Sterling and what is WTBQ?"
Members Of Warwick Valley Rotary Are Not Happy With Sterling
In addition, Members of Warwick Valley Rotary also emailed MFI-Miami privately stating how dismayed they were at her continual bashing of local businesses.
Several people wrote they were planning to drop out of Rotary if she was not asked to leave. They are fed up with Sterling's habit of thumbing her nose at the Rotary Club's 4-Way Test. A test my friends in Rotary International tell me all members are supposed to privately ask themselves every week. The 4-Way Test asks: