Vile And Catty WTBQ Morning Personality Taylor Sterling Tells Audience Not To Patronize Fireman Owned Halligans Public House
Halligans Public House became the latest business to find themselves in the psychotic cross hairs of WTBQ's vile and catty station manager Taylor Sterling.
It all began during WTBQ Owner Frank Truatt's morning show on March 10th. Frank began talking about The Computer Guy, a small computer repair company in Warwick.
Truatt was talking about the incredible services they offer. The Computer Guy's business is kind of hard to find if you don't know your way around Warwick. Frank tells his audience that The Computer Guy is next to Halligans Public House. Since everyone knows where Halligans Public House is.
Taylor Sterling then tells the WTBQ listening audience not to patronize Halligans Public House. Halligan's Public House is owned by retired firefighters. She then dedicates nearly 15 minutes ranting about the pub.
Sterling Uses Mob Style Tactics To get People To advertise On WTBQ
Sterling sits on the board of the Warwick Valley Chamber of Commerce with her comments. 
One person wrote on social media: 
Aren't Frank and Taylor members of the Warwick Valley Chambers of Commerce? If so, it makes the COC look bad. Both of them should know better not to put a local business down because the business won't advertise on the station. It's bad radio etiquette!!! If they keep this up, the station may not last!!!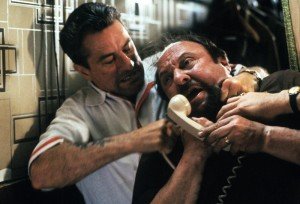 If Halligan's refusal to advertise on WTBQ is Taylor Sterling's motivation for trash-talking Halligan Public House, then this is obviously a sign that the financial situation at WTBQ has deteriorated to a point that Truatt and Sterling have had to resort to mafia shakedown games to feed themselves.
Local businesses were at the mercy to the mafia. Local mafia goons tell business owners they had to pay "window insurance." If businesses paid, the crews would make sure the business owner's windows were never broken. His windows would get broken if the business owner didn't pay up or missed a payment.
Truatt and Sterling have resorted to a similar tactic. Instead of breaking windows or limbs, they destroy a business with their radio station. They tell businesses, "Advertise on WTBQ or else! 
Sterling's on-air trashing of Halligans Public House doesn't surprise Warwick business owners. Stories of Sterling's shakedown tactics against businesses have already become legendary. 
One business owner slapped Sterling and Truatt with a $500,000 defamation lawsuit for trash-talking him.
Sterling Brings Her Own Lunch To Rotary Meetings
Sterling's obscene cattiness apparently also has no limits. She has also become infamous for bringing her own lunch to meetings of Warwick Valley Rotary Club. 
Sterling tells people that the quality of the food prepared by Master Chef Michael DiMartino at the Landmark Inn is questionable. She also proclaims the water at the Landmark Inn is "toxic." 
However, the reality is that the Landmark Inn like Halligans Public House both declined to advertise on WTBQ. As a result, Taylor Sterling begins a vulgar "breaking windows" campaign.
I'm no Rotarian but it is pretty obvious Sterling and Truatt are making a habit of thumbing their nose at the Rotary Club's 4-Way Test. The 4-Way Test asks:
WTBQ Doesn't Know Who Their Audience Is
It makes no sense for either of these businesses to advertise on WTBQ because WTBQ can not provide any market data. Market data usually shows who actually listens to the station.
The market data MFI-Miami commissioned indicated WTBQ doesn't have the 10,000 daily listeners that Sterling and Truatt tell potential advertisers. It was more like 500 daily listeners. Those listeners have an average age of 70. Old people in assisted living centers don't have disposable income and are one pension check away from being forced to eat cat food.
Sterling openly brags about how she exploits her relationship with Orange County Executive Steve Neuhaus. Furthermore, she also has no problem bragging about how she abuses her membership in civic groups to poach potential advertisers. One morning as Dominick and I were prepping for the show, Sterling openly bragged:
Being friendly to Steve Neuhaus, joining Rotary and the Warwick Chamber are the best things I ever got involved with. Neuhaus uses us to get his word out and pressures his campaign donors to advertise with us. Rotary and the chamber is the best places to sell blocks of air time because business people and Rotarians have the biggest egos and love to hear their own voices on the air.