MFI-Miami Busts Trott Law Attorney Kevin Hammons Sleeping And Using A Courtroom As His Personal Bathroom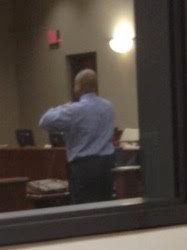 It seems like I have witnessed my share of crazy behavior from lawyers for nearly a decade. Yet, the craziness of Trott Law Attorney Kevin Hammons has made me think twice about telling people I have seen everything. 
I have witnessed foreclosure mill attorneys blatantly lie to judges and file fraudulent documents on the court. My favorite was the idiot attorney in New York who expressed cryptic Nazi pride to Jewish judge. If you are a fan of this site you know who he is. 
I have also seen attorneys lunge at judges in the courtroom. Incidents like this usually get interesting when the bailiffs pull out their batons or their tasers. 
It seems like the most disturbing lawyers are usually the attorneys who show up drunk. The most noteworthy was a Florida attorney who came to court wired from snorting blow all night. As a result, my client won their case because the attorney was high as a kite and talking jibberish during the trial.
Hammons Treats The Courtroom Like a Bathroom
I had never heard of an attorney getting dressed in court or sleeping in a courtroom until I witnessed Trott Law Attorney Kevin Hammons do it in Michigan earlier this year.
It seems like Hammons must feel a brother needs to look good for the nice white lady judge. The Trott Law Attorney uses the courtroom of 58th District Court Judge Susan Jonas to tidy up and dress for court. 
Hammons has been seen on multiple occasions dressing in the courtroom and putting on deodorant. Witnesses have also seen him shaving with an electric razor in the courtroom.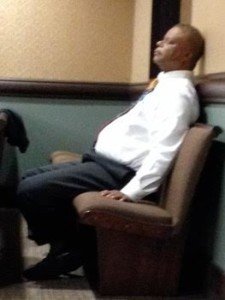 The Trott Law Attorney was also caught sleeping in the courtroom of the 20th Circuit Court in West Michigan. Hammons had just arrived after a two-hour drive from the posh Detroit suburbs and apparently needed a nap.
Hammons Becomes Famous As Detroit's Biggest Douche Bag
The Trott Law Attorney also became known in the Detroit area for representing Fannie Mae. Hammons attempted to evict Lela Whitfield. Whitfield had been trying to keep her childhood home.
Whitfield learned her parents had taken out a Reverse Mortgage on the property for $60,000 after their death. She then made numerous attempts to purchase the property from Fannie Mae. Hammons blocked her every attempt to purchase the house in the run-down Detroit neighborhood for the market value of $10,000.
Hammons and his bosses at Trott Law repeatedly cited nonexistent federal regulations in order to win the case.