Wannabe Terrorist Ted Visner Solicits Potential Investors On Youtube For Illegal Marijuana Plantation and Grow House
It appears that convicted squatter and wannabe terrorist Ted Visner has run out of impressionable women in mid-Michigan to swindle welfare and child support checks from. The wannabe terrorist and convicted squatter has a new scheme to make money.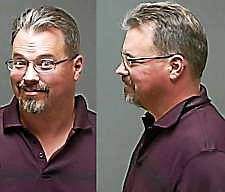 The wannabe terrorist posted a video on Youtube soliciting investors for a highly illegal marijuana growing venture. The venture appears to have been concocted from an undisclosed unheated Groundskeeper Willie style shack. 
Wannabe terrorist Ted Visner is hoping to raise $120,000. He wants to buy his former girlfriend Kathy Smith's foreclosed home for $43,000. Isabella County evicted Visner from the property several months ago.
Visner believes he can buy the property from Bank of America. Then use the remaining $77,000 to start a marijuana growing operation. He wants to use the unfinished 8,800 square foot portion of the home as the grow house. Visner originally claimed he was going to use it for a bed and breakfast for battered women.
Ted Visner's Marijuana Scheme Is Illegal
Ted Visner is promising a 100% ROI within the first 12 months from the start of the operation. Visner is hoping to get enough people to invest $120,000 in his marijuana scheme.
This alone should trigger mental images of the robot from Lost In Space warning Will Robinson of danger. No sane investor is going buy into Visner's new scheme. Especially after he promoted his zany behavior for the past year.
Wannabe terrorist Ted Visner doesn't want people to think he's running a scam. So he is promising to refund investor's money if he doesn't reach his goal of $120,000 within 45 days. He is still going to take a "handling fee" if the venture goes south. 
Visner is also assuring potential investors that the marijuana operation will comply with Michigan law. 
Visner is ignoring the fact that such grow operations are illegal in Michigan. He is also violating federal securities laws which require Visner to register his illegal marijuana plantation with the SEC. It is also illegal to guarantee a 100% ROI. 
The SEC warns about potential scams like this on their website by saying:
Promises of high returns, with little or no associated risk, are classic warning signs of fraud. Every investment carries some degree of risk and the potential for greater returns comes with greater risk. Ignore so-called "can't miss" investment opportunities or those promising "guaranteed returns." Better yet, report them to the SEC.
Visner also cannot register a corporate entity whose sole purpose is to operate in violation of the law. So basically Ted Visner is running another ill conceived scam.