It Appears WTBQ Station Manager Taylor Sterling Is Blatantly Lying To People In The Hudson Valley About Who She Is And Her Past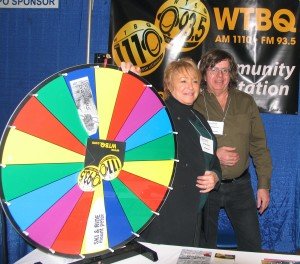 WTBQ Station Manager Taylor Sterling aka Joy Taylor claims on the air and in private that she has led a life full of adventure. Her adventures and professions would make writers like Jack London or Ernest Hemingway blush in envy. 
Taylor has claimed she has been a psychiatrist and a TV reporter in Tampa. She has also claimed to be a reporter for a small Florida newspaper. In addition to also being a bestselling author and a scriptwriter.
She also openly brags about palling around with legendary CBS Newsman Walter Cronkite. She also brags about her sexual relationship with Film Director Michael Cimino.
Cimino is known for the movie, The Deer Hunter. Cimino is blamed for bankrupting United Artists in 1980 with his over the top epic Heaven's Gate.
Taylor Sterling: Armchair Pseudo-Psychologist
Naturally, none of these claims by Joy Taylor can be verified. The only claim that has any grain of truth is that she did write a book. The book is called, I Love You…Goodbye ~ How To Rid Your Life of Toxic Relatives and Friends Without Using Harmful Pesticides. Hence, the book is apparently about breaking away from toxic people.
Critics weren't so kind about her foray into armchair pseudo-psychology. As one critic on Amazon wrote:
I was astonished at how this text actually illustrates the inner workings of truly toxic personality.
It is clear that Ms. Sterling, herself, has deep-seated issues that have made her very toxic, and in classic denial, she simply blames all others,; friends, family, etc., for her own vitriolic toxicity.
This text is horribly written, filled with hate and ( again) denial, clearly penned by one who practices transference of her own NEED for real psychiatric help onto those very people who are trying to help her.
I have had it with self-help books penned by tragically uneducated sociopaths.
This book should be taken out of circulation.
Taylor claims this book was two books. She also claims they were also best sellers. It seems like these claims are grotesquely exaggerated. Taylor must consider the 20 copies sold at the Ye Olde Warwick Book Shoppe a "best seller". 
Taylor's Charity: Fact or Fiction
Taylor also claims she operates a Not-For-Profit corporation called "Feeding Families" in Warwick.
New York State has a Not-For-Profit corporation registered to Joy P Taylor. Yet, the registration shows Feeding Families as being located at one of her previous addresses in the Bronx.
There is also no indication of Feeding Families of having any activity since its formation. This seems to imply that she uses it as a front for something. She could also be using it as costume jewelry for her resume. 
Taylor Sterling's Public Resume: Fact or Fiction?
According to Taylor's LinkedIn profile that you can see below, she claims to have worked for WTBQ since 1994 when Frank Truatt took ownership of the station.
This claim is debunked by former WTBQ personalities and employees who indicate Taylor came on the WTBQ scene two years ago as a guest on a WTBQ show to promote I Love You...Goodbye. She immediately began dating WTBQ station owner Frank Truatt and never left. 
[pdf-embedder url="https://mfi-miami.com/wp-content/uploads/2015/11/Taylor-Profile.pdf"]
Livin' La Vita Loca On The Dime Of New York Taxpayers
MFI-Miami was able to find Taylor's Chapter 7 Bankruptcy filed in June 2011 to rid herself of nearly $45,000 in unsecured credit card debt. 
On the surface, most people would look at her bankruptcy petition and say, "So, what? No big deal. Times are tough." 
However, on Page 23 of her petition, Taylor attests that during 2010 and 2011 she collected roughly $29,145 in unemployment benefits from the state of New York and at the time of the filing was living 45 minutes away from Warwick in Ellenville. 
According to Page 28 of Taylor's petition she also claims that from 2005 until December of 2009, she lived in the Bronx at the address registered as the mailing address for Feeding Families. Through most of 2010, it appears she spent her time living La Vita Loca like a Ricky Martin backup dancer in Clearwater, Florida at the expense of New York taxpayers, JPMorgan Chase and American Express.
[pdf-embedder url="https://mfi-miami.com/wp-content/uploads/2015/11/Joy-Taylor-BK-docs.pdf"]