Deutsche Bank Secretly Forecloses On A Homeowner With No Mortgage And Then Tries To Paint The Homeowners As "Land Barons"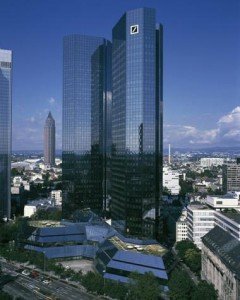 Jason and Liz Norman bought a 120-year-old farmhouse for $50,000 from Deutsche Bank. They also spent two years and $40,000 renovating it themselves. 
Jason and Liz Norman discovered the property was valued at $230,000. So they began the process of obtaining a home equity loan on the property. They planned to buy another property to renovate and re-sell.
That is when they discovered the unthinkable. The Montana Department of Revenue informed the Normans that the house was no longer theirs. Deutsche Bank had foreclosed and sold the Normans' house to a company called MOM Haven 6 LLP.
The Normans soon discovered their servicer Ocwen had made an error. Ocwen was servicing serval loans in the area for Deutsche Bank. Ocwen wrote a quitclaim deed for a house in Butte that had been foreclosed on. The deed correctly listed the address of the house at 618 W. Platinum St., in Butte. However, the legal description of the property attached to the deed was wrong. The Quit Claim Deed described the property at 633 Howard that was owned outright by the Normans.
The Department of Revenue consequently transferred ownership of the Normans' home to MOM Haven 6. MOM Haven 6 had purchased 36 properties from Deutsche Bank through Ocwen Loan Servicing.
Judge Gustafson ruled on several motions in the case and summarizing some of the facts in the case. 
MOM Haven 6 executed another quitclaim deed for the Howard property on April 9, 2013. This deed would have transferred the property back to the Normans. However, the Normans rejected it because it listed the company as an "LP" rather than the correct "LLP."
Ocwen prepared another quitclaim. The Normans rejected this version as well. The new deed included language saying that the mistakes were the result of a "scrivener's error." 
The language would have had the effect of leaving Ocwen and Deutsche Bank blameless.
Litigation Begins
The Normans knew they wanted compensation. 
They were denied the home equity loan. The lender refused to lend them money because they no longer had the deed to the house.
They also couldn't list the home for sale and no property management company would consider renting it. And They could also no longer work on property they no longer owned.