The Ted Visner Crazy Train Continues On Its Non-Stop Express Service To Bizarro Land
The Ted Visner Crazy Train keeps chugging along even with Ted Visner in jail. Sheriff's Deputies busted Visner driving an unregistered vehicle and not having a valid insurance policy. 
Ted Visner's Arrest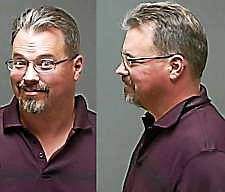 It all began on the morning of September 17th. Ted Visner went to meet other members of The Ted Visner Crazy Train at Maxfield's Restaurant in the nearby town of Edmore. The Isabella County Sheriff's Department was there waiting to arrest him on a warrant for squatting and trespassing. However, other members of the Ted Visner Crazy Train have been refused to make comments to the media.
Smith lost the house to foreclosure and according to court documents filed by Ted Visner, Smith was not residing in the property. 
Visner and his handful of passengers on the Ted Visner Crazy Train have claimed Visner had an ownership interest in the property because Visner and Smith were married and that the property was a marital asset. He has not produced a marriage license showing he ever married Smith.
Visner claims in court documents he married Smith in 2007. He later changed the date to 2004.Visner could also be looking at felony perjury charges for lying to the court about being married. Visner's claim of ownership is further debunked because his name is not on the deed, mortgage or the note.  
Isabella Sheriff's deputies ran the license plate of the vehicle Visner was driving when he arrived Maxwell's. They also discovered the vehicle did not have a valid insurance policy attached to it. 
Ted Visner's arrest fell far short of the dramatic Boondock Saints style gun battle he had prophesied in his videos. Visner did not put up any resistance.
Ted Visner Makes An Ass Out Of Himself In Court
The Ted Visner Crazy Train arrived at the courthouse and Visner decided to be a wise-ass to Judge William Ervin. Visner refused to state his name and telling Judge William Ervin to state his own name. As Sue Field at The Morning Sun described it this way:
At one point in the hearing, Visner said he wanted to "arrest the entire Isabella County" court system.
Court Day 2
The Ted Visner Crazy Train returned to Judge Ervin's courtroom the next day. 
Visner was charged with operating an unregistered vehicle and not having vehicle insurance and with squatting and trespassing.
Visner actually stated his name when he asked. He then followed it with the claim that he is "running for president in 2016."
The Ted Visner Crazy Train picked up steam as Visner demanded Judge Ervin recuse himself. 
After Ervin read the four charges, Visner refused to enter a not guilty plea. According to Sue Field at the Morning Sun, Visner told Judge Ervin:
 I'm innocent. I'm not entering any plea that has the word 'guilty' in it.
Ervin lowered Visner's total bond from $200,000 to $20,000 cash. He also observed that Visner had cooperated enough during the second round of court proceedings to be free of the contempt charge. Visner then did what most people with anger management issues do. He accused Judge Ervin and other local judges of being terrorists. 
Ervin also informed Visner his bond conditions. Visner's bond conditions included not being within three miles of Kathy Smith's property on Fremont Road. Visner cannot possess any weapons or firearms. 
Visner began yelling:
 You heard me, right Ervin? That's total bullshit and you know it.
The Ted Visner Crazy Train Has Plenty Of Passengers Who Believe His Bullshit
Visner's imprisonment didn't seem to derail the Ted Visner Crazy Train. It continued it's nonstop express service straight to Bizarro Land.
The Ted Visner Crazy Train even picked up steam and some new passengers along the way including AXJ. AXJ is the group founded by a convicted Australian kiddie porn trafficker named John Aster. It appears AXJ members manage several Facebook pages filled with nonsensical claims supporting Visner and his imaginary "War on Tyranny." 
Prior to Visner's arrest, the Ted Visner Crazy Train also picked up convicted felon and obsessed Michael Jackson fan, William Wagener. Wagner is a Santa Barbara-based conspiracy theorist with a public access show. 
Conspiracy Theorist William Wagener And His Bizarre Sex Life
Wagener was convicted of two counts of felony bail jumping in 2002. He was convicted of violating a restraining order in February of 1998. The California Constitution prohibits convicted felons on probation from running for office or even voting. Running for office violates his probation status.
According to the Santa Maria Times from March 1, 2002:
The issue involved the mother of two of his children. Wagener's own written words call her, "my non-legal plural wife." They came together when she was 18 and were united by a marriage contract he wrote himself.
Wagener also has a legal wife and five children in Santa Maria.
Court records show Wagener owes nearly $14,000 in child support to Choe.
He failed to appear at a February 19, 2002, hearing in the Wisconsin court dealing with child support. His excuse to the court was that he had a serious illness. But the next day he played host to the state Libertarian convention in Santa Maria.
Court records show that Wagener's past has involved several of what he calls "non-legal" wives. For many years, Carole and William Wagener lived in a polygamous relationship that involved at least four other "wives" and seven children, according to evidence presented in a 1993 child support and custody case in a local court.
Wagener became embroiled in the battle when Choe sued for child support and custody. He filed for bankruptcy shortly after the case went to court.