World's Biggest Pot Hole Shows Detroit Has A Long Way To Go to Become A World Class City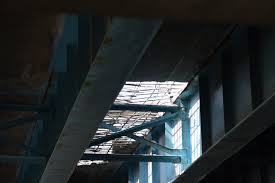 Yesterday, the world's biggest pothole was born in Detroit on section of Interstate 75 that crosses the Rouge River. The pothole which measured 3 feet by 4 feet is in a section of I-75 that Michigan Department of Transportation spokesperson, Diane Cross admits, "just keeps falling apart and we keep putting Band-Aids on areas we need surgery."
The huge pothole caused nearly 30 cars to blow out multiple tires and nearly caused several accidents before MDOT crews finally appeared to reroute traffic and block off the lane with the pothole. 
The pot hole is another world record broken in Detroit. Detroit is also home to the world's largest industrial ruin, the Packard Plant. Detroit also shattered the record in 2013 for the largest Chapter 9 municipal bankruptcy in American history.
The pot hole appeared as the Detroit Free Press was putting finishing touches on an article persuading leaders in Metro-Detroit to put together a bid for the 2024 Summer Olympics.