Brigadier General Funshine Bear Of The Ted Visner Militia Throws Himself In Front Of a Speeding Truck
The Ted Visner Militia, now known as the Visnerica Regiment, is in shock today as reports from the Isabella County Sheriff's Department indicate that newly promoted Brigadier General Funshine Bear threw himself in front of a speeding truck on Fremont Road in front of the Command Headquarters of the Visnerica Regiment. 
Funshine Bear's suicide comes one day after Ted Visner declared he and his army of stuffed animals and G.I. Joe action figures formerly known as the Ted Visner Militia secededfrom the United States and the state of Michigan. He then stated he was naming his new country, "Visnerica" after its glorious and righteous supreme leader.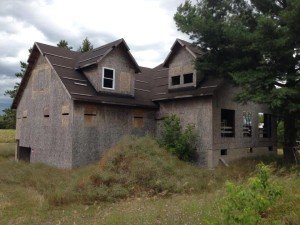 Ted Visner, who appeared extremely distressed after witnessing the suicide could only say. "He was my best friend and a fellow patriot!"
Ted Visner dressed in what appeared to be a 18th century Prussian Field Marshall's uniform then ran to the ramshackle home that appears to be fortified in preparation for a zombie apocalypse. 
The Isabella County Sheriff's Department refused Ted Visner's demand that the driver of the truck be charged for involuntary manslaughter since Funshine Bear was a stuffed bear. They instructed Visner to take his complaint to the United Nations Commission For Human Rights. 
MFI-Miami has obtained video footage of the suicide of General Funshine Bear:
The Isabella County Sheriff's Department found what appears to be a suicide note written on Ted Visner Militia stationary that was clutched in the stuffed remains of Funshine Bear's paw. The note read:
Ted,
You have violated me in so many ways. Little did I know all those nights we slept together with you clutching me against your naked body that everything you have told me over the past five years was a lie. 
You misled too many people in your attempt to  extort $45,000 from Isabella County taxpayers with your sham lawsuit in 2011 claiming the cops stole your stuff from the East Walton house.
I have felt the blows of your anger management issues for a long time but now you have gone too far. I can no longer stand by your side as you bully people and threaten the lives of cops and state troopers in an attempt to score a free house from Bank of America and Kathy. 
I feel so ashamed that I went along with all your crazy scamming as long as I did. The guilt about all the pain and suffering you and I have caused to the good people of this county is tearing me up inside. I can no longer go on. 
May God Have Mercy On Me,
Funny Face
Ted Visner declared independence for Visnerica, the property owned by Kathy Smith, Visner's on again off again wife, girlfriend and/or hetero-lifemate, after an Isabella County judge denied his motion for a jury trial in his eviction fight from the property located at 7287 East Fremont Road. Visner then filed for a restraining order in federal court. The judge assigned to the case then reclassified the case as a civil case and ordered Visner to pay the filing fee within ten days. It is highly unlikely Visner or the Visnerica Treasury has the ability to pay.
However, now that Visner has denounced his citizenship and made statements that he and the Ted Visner Militia no longer recognizes the authority of the courts of the United States or the state of Michigan. He and the Ted Visner Militia may be forced to take their claims to the International Court at the Hague or apply for membership in the United Nations.