Capitol Hill Was Filled With An Army Of Pint Sizes Spartacuses Defy Sledding Ban On The Grounds Of Capitol Hill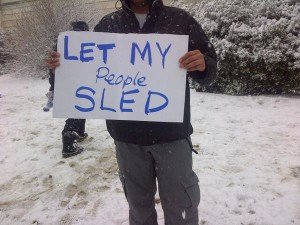 Hundreds of children conquered the west lawn of Capitol Hill. The kids came to protest a controversial sledding ban on the man-made hills around the U.S. Capitol.
"This is our neighborhood and we want to sled." -Kate Cummins
Capitol Police have refused to lift the sledding ban. Yesterday's snow day provided ample opportunity for the children to do what our nation's forefathers did.
Tim Krepp, a parent who helped the army of Pint-Sized Spartacuses organize the event told The Hill, "This is a great day for sledding and democracy," 
Krepp said the sledding ban is a "silly problem" that points to the larger issue of dysfunction in Washington and it's turning into a public relations nightmare for those who oppose sledding and support the ban.
Krepp tells The Hill, "No member of Congress wants to go on the record saying, 'Yeah, I hate children. Let's ban this,' "
Not all members of Congress support the ban. DC Delegate Eleanor Holmes Norton wrote to U.S. Capitol Police Board Chairman Frank Larkin Wednesday calling for an end to the ban.