Detroit Could Have 100,000 More Homeless Strollin The Streets By Christmas 2015 Because Of Deadbeat Landlords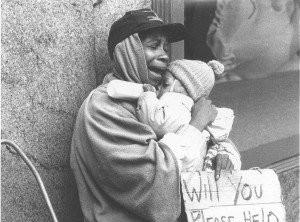 100,000 people could be homeless in Detroit thanks to deadbeat landlords.
Nearly 15% of Detroit's population could lose their properties if they don't soon pay delinquent taxes according to an analysis by Loveland Technologies.
Steve Neavling at the Motor City Muckraker reports:
Wayne County is beginning the foreclosure process on an unprecedented 62,000 properties.
Loveland Technologies told Motor City Muckraker:
Many are living in homes where their landlord should be paying taxes, but is not, and the homeowner may have no idea.
Since Detroit filed Chapter 9 bankruptcy last year. Bond-rating agencies have rated Wayne County's bond rating at "junk bond" status. Thus, the Wayne County Treasurer is taking the unprecedented step of foreclosing on 62,000 properties. 
Roughly 37,000 of those are believed to be occupied houses, Alsup said, based on information gathered by the Motor City Mapping project, a survey of every parcel in Detroit.
Delinquent property owners are expected to pay their taxes at the last minute. However, many aren't.
These properties are at least three years delinquent on taxes.
Many of these potential homeless people are renting from landlords. Landlords who refuse to pay their tax bills to the city and county.