Florida Foreclosure Mill Lawyer Lacks The Raw Passion Of Pam Grier Or The Dynamite Kick of Tamara Dobson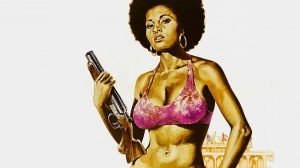 Last week, a law firm asked me to do something I had not done since my days in politics. They asked me to do what political strategists call "Opposition Research" on a Florida Foreclosure Mill lawyer in a case I was working on.
The attorney I was hired by asked me to research Shannan Holder. Holder is a Florida foreclosure mill lawyer from Choice Legal. If you're not familiar with Choice Legal, Choice Legal is a Florida foreclosure mill  that sprung up from the burned carcass of former foreclosure mill Marshall Watson.
Holder has no problem stealing homes on behalf of Armani clad white men who control Wall Street. Yet, it appears she appears to be an amateur poet using the name "Shannon" Holder. "Shannon" Holder writes poetry trashing white men. She likes blaming the "cruel world of men" for suppressing and mistreating her. Ironic since she makes a living working as a tool for the white man.
Holder's poetry lacks the raw passionate power of Pam Grier and the dynamite kick of Tamara Dobson. However, her fans gush over her whinny prose as if she is the next Maya Angelou or Alice Walker.
Here is her award winning poem:
I Am A Black Woman

I am a black woman:
Brown as the color of my skin
Black as my people from Africa
I am misunderstood:
Men may not see me as their equal
But my parents still see me as a child
I am a singer:
All the way from quartet group singing
I made history on a stage in Canada
I am a lawyer:
Accepted by my colleagues
But mistreated in a man's firm
I am a mother:
Loved by many children
Passionate for my friends and family
I am a black woman:
Loved by so many
And survived the cruel world of man