CNBC Host Santelli Goes Ape Shit When Other Hosts Call Him Out For Never Being Accurate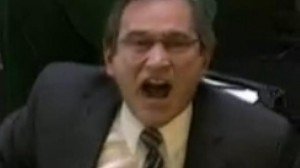 CNBC talking head Rick Santelli went on an epic rant about Janet Yellin and Fed policy.
You may remember Santelli.
Santelli is the guy who called for a rebellion against Obama less than 60 days after Obama was sworn into office in 2009. The rant was based on false information that people may have to pay their neighbor's mortgage. Particularly if they bought far more house than they could actually afford.
Since then, he has tried to make economic predictions like he was The Amazing Criswell was the financial world. The only problem is he has a 100% track record of being wrong.