Angel Garcia Faced Down Mexican Drug Lords And Corrupt Federales. Now He's Forced To Battle Millionaire David Trott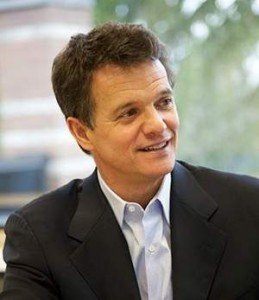 Angel Garcia's story of coming to America from central Mexico is no different than the stories my great-grandmother used to tell me about coming to America from Poland except that Mexicans and other immigrants from Central Americans do not get to experience the glamour and breathtaking view of passing the Statue of Liberty as depicted in the movies like "The Godfather"
Mexicans coming to the U.S. legally still have to endure a much more perilous journey getting to the border than their European counterparts. Unlike Europeans, Mexicans often have to defend themselves against drug lords, sex traffickers, kidnappers, rape gangs, corrupt cops, thieves and slew of other groups that make the banditos from a Sergio Leone movie look like the Salvation Army.
For Angel Garcia, the risk of facing these groups for the thousand mile trek through Mexico to the Texas border so that he and his family could live a new life filled with unimaginable opportunities they would never see in central Mexico was worth it.
Clutching to his Green Card as if it were the last golden ticket from Charlie and the Chocolate Factory, Angel Garcia finally made it to the Texas border.  For the next decade, he worked his way across America as a migrant farm worker living in dilapidated barracks with other migrant workers and hiding his meager wages in his shoe.  He would go to sleep every night dreaming of the day when he would be reunited with his wife, Estela and their children who were back in Mexico waiting for permission to emigrate to America.
After settling in the picturesque Polish enclave of Cedar, Michigan, Angel Garcia was finally able to reunite with his wife Estela and their children in the mid-1990s.
In December of 2003, Angel and Estela were able to do something they could never do in Mexico – they bought a house on a piece of property they actually owned.
In 2011, disaster struck when Angel received a botched hernia surgery and couldn't work for nearly a month.  He and Estela fell behind on his payments that up until then had been paid on time.  Bank of America who is servicing the loan for Fannie Mae, refused to allow Angel or Estela, who don't speak English, to speak to a Spanish-speaking representative even though this is a service Bank of America readily offers throughout the U.S.
At wit's end, the Garcias turned to the CRA housing non-profit, Northwest Michigan Community Action Agency (NMCAA) for help since one of their major benefactors is Bank of America.  NMCAA contacted both Bank of America and Bank of America's attorney, Trott & Trott.  After jumping through all the hoops, Bank of America agreed to give the Garcias a temporary modification.
Garcia 1 St Mod Offer by Steve Dibert
Angel and Estela made the payments as requested until May of 2012 when they received the following letter dated May 26th stating Bank of America had agreed to give them a permanent loan modification:
Garcia Perm Mod Offer by Steve Dibert
After making several payments on time, the Garcias then received a check from Bank of America in the amount of the payments they had made and received this letter dated August 6, 2012 from Trott & Trott claiming because the Garcias did not make any payments or accept the modification that Bank of America offered and they were now proceeding with foreclosure:
Garcia Trott Letter by Steve Dibert
Contrary to what Trott's office may be claiming in this letter, MFI-Miami has received a copy of the Garcia's file from Bank of America. It shows that these payments were indeed made and that a loan modification agreement was signed between the Garcias and Bank of America. So why did Trott & Trott advise Bank of America to initiate a foreclosure? No one will give a straight answer Fannie Mae points the finger at Bank of America and Bank of America points the finger at Trott & Trott. Trott & Trott point the finger back at Bank of America.
If this sounds familiar, it because this is the same bait and switch tactic Trott attempted to pull on a retired Green Beret two years ago. This time, its on behalf of his client, Bank of America. The same Bank of America that brags on Spanish speaking television networks about it's outreach programs to Hispanic communities across the United States.
What Trott's firm is doing is referred to as "Dual Tracking" in the financial industry and it's essentially a bait and switch tactic. It is also now illegal under the Dodd-Frank Act passed by the U.S. Congress in 2010. Its where foreclosure mills like Trott & Trott and a mortgage servicer convince a homeowner that everything is fine while commencing with a foreclosure against the homeowner. It is also a violation of the Dodd-Frank Act.
Trott's firm is also infamous for it's robo-signing. Trott like his most other foreclosure mills has his share of robo-signers who have forged documents that have been filed with Register of Deeds offices through out the state of Michigan.  Trott's firm, Trott & Trott has attorneys like Ellen Coon, Marcy Ford, and Kenneth Kurel.  All of whom are also willing participants in the financial terrorism that have contributed to the destruction of Michigan's housing market.
The ironic thing about Trott thumbing his nose at the concept of legal ethics, is that he has the cojones of accusing his GOP primary opponent, current Congressman Kerry Bentivolio, of breaking minor campaign finance laws.