Now You Don't Have To Drive 600 Miles Or Carry A Gun To Have The Detroit Experience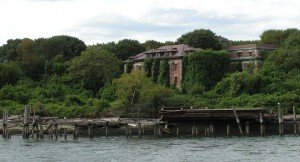 North Brother Island is a 20-acre wilderness of trees and vines and abandoned, crumbling buildings in the New York Harbor that New York Times' Robert Sullivan describes as, "New York's miniature Detroit."
North Brother Island housed a quarantine hospital that once housed Typhoid Mary. the hospital closed over 50 years ago and has long been a source of fascination for urban explorers and history nerds. Former Mayor Rudy Giuliani made it a nature preserve and made it off limits except to biologists.
Urban photographer Max Touhey recently journeyed to the island, only accessible by boat and wrote,
"With little or no vandalism by people, everything has been left to decay naturally. In a number of the buildings, trees have rooted indoors and on some of the roofs. The island's soundtrack consists of constant low flying commercial airliners heading to LGA and a thriving population of birds. Strangely enough though, I did not see a single egret or heron, for which the island is a protected migration zone. In really any abandoned place, you always manage to come across something incredible. On North Brother Island, this happened every ten minutes. Resting lifelessly on an examination table in the morgue building was a small but exotic-looking bird. Close by, in the repurposed library building, were hundreds of books, none more recent than 1960, layering the floor. Strangest of all though was entering the collapsing stock house. A thousand-page "CITY OF NEW YORK—DEPARTMENT OF HOSPITALS STORES LEDGER" as seemingly epic as a Gutenberg Bible was repurposed as a "book hive" for enormous black bees (you can spot one at 5:02 in the video). These kinds of surprises are everywhere on North Brother Island, and I regret only spending 7 hours there when considering what else there is to discover."
He even took a video of what has become the largest forest in the Bronx.