Convicted MI Supreme Court Justice Hathaway Probably Regrets Not Fighting Allegations By US Attorney Barbara McQuade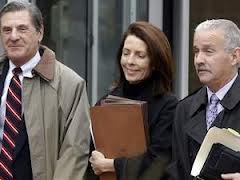 Former Michigan Supreme Court Justice Diane Hathaway, who confessed to bank fraud while negotiating the short sale of her home in the posh Detroit suburb of Grosse Pointe Park is crying that she is  out of prison and says her unique status is keeping her confined longer than what's normal.
In a self drafted motion, Hathaway asks U.S. District Judge John Corbett O'Meara to let her out early or allow her to serve the rest of her sentence at home.
O'Meara sentenced Hathaway on May 28 to 12 months and one day in prison, plus two years' probation, after she copped a plea to one count of fraud in connection with the short sale of her Grosse Pointe Park home. Hathaway began her sentence in August at FPC Alderson aka Camp Cupcake.
In her motion, Hathaway says any other prisoner would normally be eligible for a move to a halfway house by this point in her sentence and that she is being treated unfairly by the federal courts. The U.S. DOJ Bureau of Prisons won't consider such a move out of concerns for her safety. Hathaway a former Wayne County Judge who presided over and sentenced over hundreds of criminal cases.
I have no sympathy for Hathaway because she should have known she faced a situation like this when she plead guilty to bank fraud last year. Its apparent, Hathaway's lawyer, Steve Fishman, knows nothing about mortgage lending, loan modifications or short sales because as I said before, the government's against Hathaway had more holes in it than a block of Swiss Cheese. With bringing in the right people to testify, she could have easily debunked the government's claims especially the claim that she defrauded $600,000 from ING Direct.
But then again, what do I know?  I'm just one of the leading mortgage fraud experts in the U.S.
Also read:
MFI-Miami Debunks DOJ's Fraud Claims Against MI Supreme Court Justice
Hathaway Motion For Early Release