Peruvian developer makes final payment on Packard Plant as fires break out
Steve Neavling, Motor City Muckraker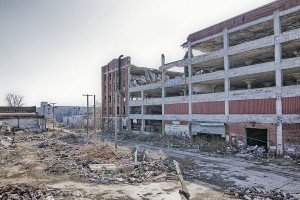 Thieves caused multiple fires to break out at the Packard Plant on Thursday as Peruvian developer Fernando Palazuelo made his final payment to Wayne County to buy the sprawling, lawless ruins.
Palazuelo made his final payment – $364,590 – to make good on his $405,000 bid. The money was placed in an escrow pending an environmental assessment that is expected to be wrapped up by Dec. 31.
Just as Palazuelo was making the historic purchase, metal scrappers who have been virtually ignored by police sparked multiple fires Friday while trying to steal pipes from tunnels underneath the Packard on Detroit's east side. Firefighters said the thieves punctured a natural gas line, causing fires in several areas.