Douglas Jamiel At Truthout Wrote A Great Piece About Quicken Loans Founder Dan Gilbert
"The First National Building over here is ours," explains billionaire Dan Gilbert, pointing at the Detroit skyline from his glass promontory in a recent interview with 60 Minutes' Bob Simon.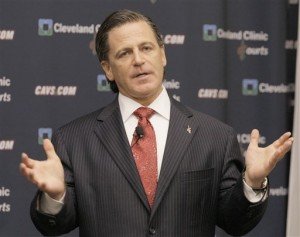 Like a player in an all too real game of Monopoly, Gilbert takes inventory of his latest acquisitions: "The Chase Building," he continues, "and the one over there near the river." His Rock Ventures now owns or controls almost 8 million square feet of space in some 40 downtown Detroit buildings, prompting Simon to ask if his obsession with downtown Detroit real estate is "good for Detroit or good for you?" That is, of course, the relevant question, one Gilbert evades with a murky answer conflating Motown's success with his own. The answer, however, bears deeper scrutiny and leads one literally and figuratively into the thick weeds of Detroit's financial situation and Gilbert's role in it.
Gilbert – who is unpretentious and friendly – seems genuinely motivated by a desire to help his hometown. He's the type of guy who blends in easily at a Cleveland Cavaliers game (except for the fact that he's majority owner of the team). Although he defies in demeanor and appearance the image of the mustachioed little mogul in the iconic board game, his wealth and power illustrate that he is not aiming toward Boardwalk and Park Place; he already owns them. For Gilbert – like many of his uber-rich brethren – his own prodigious fortune is proof that Detroit's only hope lies in following the same economic blueprint that guided his own rise to power. As with many self-anointed prophets come to lead the faithful out of poverty and darkness, one must drink the Kool-Aid to share the vision. But his formula for the city's rejuvenation amounts to the same cocktail of cheap land, low taxes and entrepreneurial moonshine that intoxicated Detroit for decades. Always, the binge has resulted in an impressive payday for the wealthy – those who need it least – and an endless hangover of poverty and desperation for the majority of the city's residents.
Gilbert's world is uncomplicated, inhabited by investors looking for a cheap or razed landscape to exploit and a submissive workforce eager for any crumbs that might fall from the table of their beneficent employers. He has little patience for the green areas and urban farms envisioned by Detroit's "Future City" plan, a thoughtful planning project that proposes developing the city around various zones, each based on industrial, artistic and agricultural models. While many would see at least some of the 78,000 blighted and abandoned homes as salvageable and an opportunity to teach rudimentary building skills to the unemployed and disaffected eager to learn them, such nuance does not comport with Gilbert's "take no prisoners" development model.
"We have to get it all down," he told reporters.
"When all the utilities are there and the land is pretty much close to free – not exactly free but close to it – and all the utilities are there, it becomes very cheap for a builder-developer to develop a residential unit. And they are going to develop them and develop them in mass [sic] as soon as we get the structures down and maybe we don't have to worry about raising peas or corn or whatever it is you do in the farm."
In March 2010, the Bureau of Labor Statistics (BLS) pegged Detroit's official unemployment rate at 16.7 percent. Factor in Detroit's underemployed and discouraged workers, argued former Mayor Dave Bing at the time, and the figure was closer to 50 percent. As of August 2013, Detroit's unemployment had gotten worse, coming in at a full 17.7 percent, according to the BLS. Furthermore, findings from the Detroit Future City (DFC) program" report indicate that 68 percent of Detroiters without a high school diploma (20 percent of the population) do not even participate in the economy. In the face of this reality, one is compelled to ask: Just who will be able to purchase the bumper crop of housing Gilbert predicts, no matter how cheap? Certainly not the city's impoverished majority, which needs it most. More importantly, as the billionaire opines on the fate of the devastation beyond the boundaries of what appears to be his new fiefdom, one hopes that somewhere in his psyche he at least has entertained some thoughts about the role his own companies – Quicken Loans and Rock Financial – played in creating the present blight.
Before examining Gilbert's part in Detroit's situation, it is instructive to note two things. First, in 1996, Detroit had one of the lowest foreclosure rates in the country (Black Commentator, Nov. 22, 2007). Next, although many players helped build the financial house of cards, by the time it toppled in 2008, Andrew Mozilo's Countrywide had laid much of its shaky foundation. Through his companies, Rock Financial and Quicken Loans, Gilbert was a partner in that construction, working hand-in-glove with Countrywide as the front-end originator of loans it routinely transferred – sometimes unbeknown to borrowers – to larger organizations like Mozilo's, where they were fed into churning derivatives machines. Once transferred and bundled, Quicken's fingerprints on these loans were expunged, allowing Gilbert to disavow to this day any association with the subprime mess, a claim analysts and former employees close to Quicken's operation at that time contradict. As Steve Dibert of mortgage company watchdog, MFI-Miami explains (February 5, 2011) , "Quicken was able to escape the carnage and tarnished images of the financial crisis. It's not necessarily because they were 'one of the good guys' as Dan Gilbert claims but because they didn't carry any liability from the loans they originated."