County Treasurer Andy Meisner Puts Heat On Congress Over Fannie/Freddie Tax Exemption
There's no shortage of people in Congress that are looking to get their paws on Fannie and Freddie because they share the same outrage that we've shared: That these entities were started for a good public purpose and that they have evolved into these monsters that have manipulated our markets, compromised our property values and that have kind of roughed up our families. -Oakland County Treasurer Andy Meisner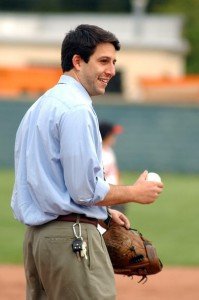 Other than Ingham County Register of Deeds Curtis Hertel, Jr., Oakland County Treasurer Andy Meisner is only other politician in the American Midwest that is actually doing something to combat the rigged U.S. housing system that has done absolutely nothing but screw homeowners since the Great Recession began in 2008.
After losing the fight over Fannie Mae and Freddie Mac's federal tax exemption from state and local taxes earlier this year, those of us in that fight haven't stopped. Unlike MFI-Miami, who is now using this ruling to argue that Fannie Mae and Freddie Mac's use of "Foreclosure By Advertisement" in Michigan is a violation of a homeowner's civil rights and Curtis Hertel, who is taking the fight to the Michigan Senatenext year, Meisner has decided to take the fight to Washington where he learned Washington politics first hand working for veteran Congressman Sander Levin in the 1990s.
This is a smart move by Andy Meisner and it's a fight that he can probably win.
After all, Fannie Mae and Freddie Mac were chartered by congress and subject to congressional oversight. So logically, if you want to change the corporate culture of Fannie Mae and Freddie Mac, you need to persuade the people who control Fannie And Freddie's purse strings and write their by-laws to change the rules.
Meisner, unlike most other Michigan politicians actually understands the unique opportunity Michigan has when it comes to dealing with the government oversight of Fannie Mae and Freddie Mac.
Michigan has three members of it's congressional delegation on the U.S. House Financial Services Committee.  The three members are Bill Huizenga (R-Grand Rapids), Gary Peters (D-Detroit) and freshman Dan Kildee (D-Flint). Only California, New York and Texas have a higher representation due to their much larger congressional delegation.
All three members of Michigan's representation on the committee come from the world of real estate or finance. Huizenga was a former real estate broker. Peters was a successful stock broker and Kildee was a County Treasurer and founder of the Genesee County Land Bank that helped fight urban decay in one of Michigan's hardest hit industrial cities. So these three men make sensible allies in the fight especially with next year being an election year and Gary Peters running for the U.S. Senate.
Being the pragmatist he is, Meisner understands he can't retrieve the money that has already been lost and that any attempt to take this fight to the U.S. Supreme Court would be futile. So he is looking forward to the future. He wants Congress to change Fannie Mae and Freddie Mac's tax exemption status until congress replaces Fannie Mae and Freddie Mac as Peters suggesting doing in 2011 and he's lobbying other county officials from around the country to help him pressure congress.
According to the Oakland Press, Meisner is "now partnering with legislators across the country to draft language that would change a federal statute on whether the companies — which both went public less than 30 years after their creation — should be on the hook for, or exempt from paying taxes on deeds claimed in local municipalities."