Florida Barbie's Dropping Investigation Against Donald Trump Brings Potential Ethics Issues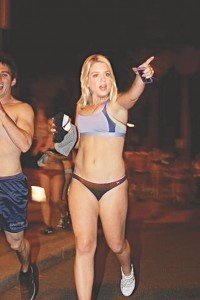 Last month, Florida Attorney General Pam Bondi thought it would be great public relations to follow New York Attorney General Eric Schneiderman's lead after he filed a $40 million lawsuit against Donald Trump's faux University, Trump University.
Schneiderman sued Trump over Trump University for $40 million in August claiming that nearly all of the 5,000 students who paid up to $35,000 thought they would get to meet Trump but instead all they got was their picture taken in front of a life-size cardboard cut out of the billionaire who has taken a detour into the Twilight Zone of nuttiness over the past decade.
Schneiderman's lawsuit also claims that the fake university promised to make students rich but instead steered them into expensive and mostly useless seminars, and promised apprenticeships that were never delivered. Trump University also advertised "free workshops" across the country that would be taught by instructors that were handpicked by Trump who in reality were not picked by Trump.
On September 13th, after being informed that several of the complaints included in Schneiderman's lawsuit were from Florida residents and discovering dozens of complaints were filed with the Florida Attorney General's office under the leadership of her predecessor, Bill McCollum, Bondi announced she was launching an investigation into Trump Institute and to see if Florida would join New York in a multi-state action.
Trump Institute, the Florida affiliate of Trump University, collaborated with and paid franchise fees to Trump's New York operation and used materials that prominently featured Trump and his image just like they did in New York. The Boca Raton-based business severed its ties to Trump in 2010 and changed its name to Business Strategies Group LLC, though the company has since been dissolved.
Four days after Bondi announced she was launching an investigation, Donald Trump gave her a nice $25,000 donation to her campaign committee. Bondi has announced she plans to run for a second term in next year's statewide election.