Jill Van Horn Issues Rambling Press Release Referring To Herself As A Prophet Who Will Save The World's Largest Industrial Ruin And Detroit
 "Prior to placing the bid on the Packard Plant, Dr. Van Horn's prophecy was to resurrect Detroit by providing education, jobs and vocational training to the city's residence, simultaneously unplugging the financial arteries of the city." – Van Horn Representative Mark Day
The top bidder for the world's largest industrial ruin, the abandoned Packard Plant, located in Detroit issued a rambling nonsensical three page press release yesterday afternoon titled, "The Posential Energy in Detroits Assets," which you can read at the bottom of this article.
In it, Jill Van Horn's representative claims Van Horn prophesized she and her investors were going to resurrect the World's Largest Industrial Ruin and Detroit by unplugging the financial arteries of the city and compared her plans to transforming Detroit to hydroelectric power.
From her press release its apparent Van Horn doesn't understand the economic philosophies of Peruvian Economist Hernando de Soto who she quoted. Jeff Wattrick at Deadline Detroit, points out Van Horn's butchering of his philosophies this way,  "It's really unfortunate, that De Soto is introduced to Detroit in this way because he's an interesting guy with interesting ideas about property ownership, the informal economy, and jump starting an egalitarian capitalist system in a failed economy."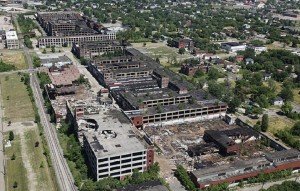 Jill Van Horn's winning bid for over $6 million dollars for the World's Largest Industrial Ruin astounded observers and Detroit area real estate experts because who in their right mind would pay $6 million for a property that needs $25 million in environmental cleanup and is only worth maybe $1.25 million when cleared and detoxified?
On Monday, through another spokesperson Davis Marshall, who it appears is having his own financial difficulties and problems with writing bad checks, Van Horn claimed she wanted to transform the plant into the Packard site into a new economic center on the east side of Detroit that will build modular homes and building supplies for modular homes on site and to be shipped around the world.
On Monday, JC Riendl of the Detroit Free Press pointed out flaws in their sales pitch,
"Several experts in the modular home industry contacted by the Free Press were skeptical of the Packard plant redevelopment venture and its "export-oriented" business model. Production faculties for modular homes are generally built close to their destination markets, the experts said, as the plants themselves are inexpensive to build and transporting large modular components over big distances is pricey."
At tax auctions, Wayne County usually only gives bidders until the end of the next business day to pay their bids. However, Wayne County extended the deadline until Wednesday due to the large amount of the bid.
In an interview today with JC Riendl of the Free Press, Van Horn claims she has all the money by telling him, "It would have been illogical to bid on the property if we didn't."
When Van Horn was pressed about when she plans on paying Wayne County, "we're still working with them on the time frame … Hopefully we'll be able to come to an understanding very soon."
This would contradict what she told Wayne County Deputy Treasurer David Szymanski on Monday according to Christine McDonald at the Detroit News,
"Van Horn and two other representatives spoke with Wayne County Chief Deputy David Treasurer Szymanski by phone for about 10 minutes Monday afternoon about working out when she'll deliver the $6 million. Szymanski said Van Horn indicated she has a significant portion of the money now but needs a few days to get the entire amount."
Already assuming the media and others in Detroit were skeptical about her and her investors ability to pay for the World's Largest Industrial Ruin. Van Horn addressed this in her press release,
"If the county doubts that we have the ability to perform, we challenge the county by stating at this time, Dr. Van Horn and her lenders, investors are prepared to travel from Texas to Detroit and sit down with the county and make an offer for every vacant, abandoned and dilapidated apartment building within Detroit. Not only are we prepared to show that we have the ability to perform, but we are ready to perform."  
This woman is starting to make Entrepreneurial White Guy, Jason Lorimer and all the other White Jesus types flocking to Detroit look legitimate and sane.