Eminem's childhood bungalow is featured on the 2000 "Marshal Mathers LP" album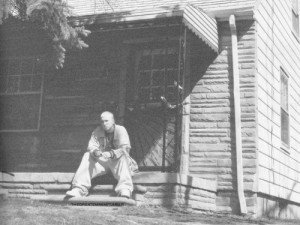 Steve Neavling at the Motor City Muckraker reports that the 747 square foot bungalow that appeared on the cover of rapper Eminem's 2000 CD "Marshal Mathers LP" and where he spent part of his teenage years in is going up for auction. The house on Detroit's northeast side like the other houses in the neighborhood is boarded-up and surrounded by litter, tall weeds and overgrown shrubbery.
The boarded up ramshackle house is owned by Michigan Land Bank Authority has gone through numerous owners since Eminem's mother Deborah Nelson-Briggs owned it from 1998 to 2003.
The house isn't much different than the other houses in the neighborhood which is overrun by neglect, drugs and abandonment.