Like The Average Homeowner, It Appears JPMorgan Chase & The Miami-Dade Courts Are Railroading OJ Simpson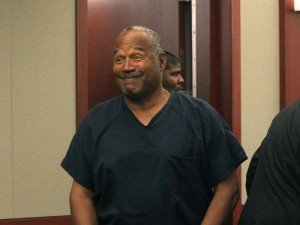 It appears former professional football player and actor, OJ Simpson is having his due process rights violated. Simpson is currently serving time at the Lovelack Correctional Facility in northwest Nevada after being convicted of kidnapping and armed robbery in 2008.
Simpson's rights are not being violated by prison guards or by other inmates but 1,500 miles away in the posh Miami suburb of Kendall where Simpson settled down after he was acquitted in the murder of his ex-wife Nicole and her drug dealer boyfriend, Ron Goldman. Unfortunately for Simpson, this time around he doesn't have a legal dream team defending him.
After his acquittal of his ex-wife and Goldman, Simpson moved to Florida to take advantage of Florida's low tax rates and to avoid Fred Goldman's (Ron's father) Javert style legal pursuit of him through the courts when he closed on an Option-ARM mortgage with Washington Mutual for $592,000 on March 6, 2003.
Problems began in 2011, roughly two and half years after he was convicted and sentenced to 33 years in a Nevada Correctional Facility after being found guilty of kidnapping and armed robbery when JPMorgan Chase began foreclosure proceedings against him on his home in Kendall, Florida.
JPMorgan Chase has been attempting to foreclose on Simpson since January of 2012 when it was reported their attorneys from Albertelli Law went into court claiming Simpson was dodging their process server and they had no idea where he was.  Seriously, the attorneys for Albertelli Law went in front of a Miami-Dade judge last year claiming they had no idea where Simpson was.
Like many homeowners in Florida, Simpson is a victim of what appears to be an illegal foreclosure by JPMorgan Chase.  Albertelli and GrayRobinson, two of Florida's largest foreclosure mills have presented no evidence that their client, JPMorgan Chase has legal standing to foreclose on Simpson other to claim that JPMorgan Chase holds the mortgage.
First, there is no evidence of a mortgage assignment from Washington Mutual to JPMorgan Chase prior to Washington Mutual placed under FDIC receivership. There also appears to be no evidence of an assignment filed to JPMorgan Chase by the FDIC acting as Receiver for Washington Mutual with with the Miami-Dade Clerk of the Court. Under Florida law a party foreclosing must present evidence that they have an ownership interest in the debt.
Both Albertelli and GrayRobinson have argued that JPMorgan Chase acquired this mortgage through operation of law with their acquisition of Washington Mutual from the FDIC.
As any who has followed this blog and MFI-Miami can tell you this is complete and utter bullshit.
Along with my attorneys in Florida and Michigan, we have successfully argued to the courts in both Michigan and Florida that this is not what happened during the implosion of Washington Mutual and that a mortgage assignment from either Washington Mutual or the FDIC as Receiver for Washington Mutual to JPMorgan Chase must be filed on public record in order to foreclose.
JPMorgan Chase acquired certain assets of Washington Mutual from the FDIC after the Office of Thrift Supervision closed Washington Mutual and appointed the FDIC as receivership on September 28, 2008.  JPMorgan Chase never acquired the entire corporation. In other words, JPMorgan Chase cherry picked the assets they wanted and left the rest for Washington Mutual's creditors to fight over.
Article III of the Purchase and Assumption Agreement signed by JPMorgan Chase and the FDIC specifically states:
3.1         Assets Purchased by Assuming Bank. Subject to Sections 3.5,3.6 and 4.8, the Assuming Bank hereby purchases from the Receiver, and the Receiver hereby sells, assigns, transfers, conveys, and delivers to the Assuming Bank, all right, title, and interest of the Receiver in and to all of the assets (real, personal and mixed, wherever located and however acquired) including all subsidiaries, joint ventures, partnerships, and any and all other business combinations or arrangements, whether active, inactive, dissolved or terminated, of the Failed Bank whether or not reflected on the books of the Failed Bank as of Bank Closing. Assets are purchased hereunder by the Assuming Bank subject to all liabilities for indebtedness collateralized by Liens affecting such Assets to the extent provided in Section 2.1. The subsidiaries, joint ventures, partnerships, and any and all other business combinations or arrangements, whether active, inactive, dissolved or terminated being purchased by the Assuming Bank includes, but is not limited to, the entities listed on Schedule 3.1a. Notwithstanding Section 4.8, the Assuming Bank specifically purchases all mortgage servicing rights and obligations of the Failed Bank.

3.3          Manner of Conveyance; Limited Warranty; Nonrecourse; Etc. THE CONVEYANCE OF ALL ASSETS, INCLUDING REAL AND PERSONAL PROPERTY INTERESTS, PURCHASED BY THE ASSUMING BANK UNDER THIS AGREEMENT SHALL BE MADE, AS NECESSARY, BY RECEIVER'S DEED OR RECEIVER'S BILL OF SALE, "AS IS", "WHERE IS", WITHOUT RECOURSE AND, EXCEPT AS OTHERWISE SPECIFICALLY PROVIDED IN THIS AGREEMENT, WITHOUT ANY WARRANTIES WHATSOEVER WITH RESPECT TO SUCH ASSETS, EXPRESS OR IMPLIED, WITH RESPECT TO TITLE, ENFORCEABILITY, COLLECTIBILITY, DOCUMENTATION OR FREEDOM FROM LIENS OR ENCUMBRANCES (IN WHOLE OR IN PART), OR ANY OTHER MATTERS. 
Therefore, the FDIC would be the only entity to have rights as a successor "by operation of law" to foreclose on Simpson not JPMorgan Chase and a mortgage assignment must be recorded in order to foreclose.
Simpson also has nearly $245,000 in IRS tax liens attached to the house going back to 2007. Under federal law if a homeowner has an IRS tax lien on the property, a foreclosing entity must notify and seek approval from the IRS prior to commencing with foreclosure. It is highly unlikely JPMorgan Chase notified the IRS of it's intent to foreclose.
Unfortunately, on August 20, 2013, Miami-Dade Circuit Judge Gisela Cardone Ely granted summary judgment to JPMorgan Chase and ordered Simpson's house be sold at auction on October 19th.
Therefore, JPMorgan Chase's foreclosure claim against Simpson is not only illegal but more than likely could be overturned by the 3rd Florida District Court of Appeals or by the federal courts if the IRS decides to file suit.
Like in most Florida foreclosure cases, one of three things happened here:
 OJ Simpson's attorney, Leonardo Starke didn't argue his defenses properly.

The attorneys for both Albertelli and GrayRobinson strung enough BS together to convince Judge Ely not to review case law.  Both firms knew about multiple Florida court rulings where the courts have ruled against JPMorgan Chase and BankUnited on foreclosure cases where the property was transferred through the FDIC because both Albertelli and GrayRobinson represented these banks in these cases that lost.
Judge Ely is a lazy and/or an incompetent judge.
Say what you will about O.J. Simpson but at the end of the day he's being treated no different than the average homeowner and his due process rights are being trampled on just like the average homeowner when it comes to way the Miami-Dade courts are handling his foreclosure.