Michigan Can't Compete In The 21 Century And It's Not Beause Of Labor Unions, Liberals Or Taxes
"The role of government is customer service, and our citizens are our customers," -Michigan Governor Rick Snyder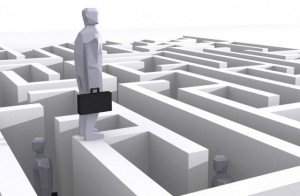 Over the weekend, a friend of mine in metropolitan Detroit asked me to help her form a Michigan Limited Liability Company or LLC for a business she wanted start.  Since I've done them before and I figured for 15-20 minutes of easy work, I'll look like a hero and get some sweet lovin' on Monday night.
Unfortunately, setting up an LLC in Michigan is a bigger pain in the ass then I thought it was going to be and its a lot more complicated and time consuming than it really needs to be. It's also another example of how out of touch Lansing is with the 21st century world.
First, you have to spend nearly 15 to 20 minutes trying to navigate the state of Michigan's Byzantine website to get to the Michigan Department of Licensing and Regulatory Affairs (LARA) to research if the name you want to use is already being used.
If attempting to navigate the main site for the state of Michigan wasn't enough of a pain in the ass, it takes another 20 minutes to navigate the through the LARA site to find the forms you need from the Byzantine sounding Corporations, Securities, Commercial Licensing Bureau of the Corporations Division.
The Byzantine complexity of Michigan's website is so complicated, Franz Kafka would get a raging hard-on trying to navigate it.
After hitting a few dead ends, I finally get to the page I need.
I get the documents I need to have my friend fill out and this is where the process get even more bureaucratic and time consuming.
First, I need to print (yes, print) and fill out a PDF of Form 901 which is something called an ELF form that requires me to give the state of Michigan a credit card number so they can charge my credit card for the $75.00 filing fees.
Then, I have to print and fill out form 900 called the ELF Cover Sheet and form 700 which is my Articles of Incorporation.  Michigan then gives me a choice of emailing them or faxing them.
So being a relatively tech savvy guy, I fill out the forms, scan them and email them to the email address on the form.
Fifteen minutes, later I get an email back saying my email could not be delivered.  So I take my copies and fax them to the number on the the form.
That was this morning at 10:00 AM and no word from the bureaucrats at the Corporations, Securities Commercial Licensing Bureau of the Corporations Bureau of the Michigan Department of Licensing and Regulatory Affairs but to be fair, the site does say 24 hours for processing unless you want to pay up to an additional $1000 and get it in an hour.
All of my Michigan friends will say, "So, what?"
Let's compare the experience of forming an LLC in Michigan to a state like Florida. I pick Florida because that's where MFI-Miami is headquartered and I where I have experience of using another state's system.
Florida's system is called Sunbiz and it is a one-stop shop for forming an LLC or an S-Corp in Florida.
Sunbiz allows you to fill out the two forms you need on their site which are only two or three clicks away from the home page.  Sunbiz then allows you sign everything and pay the filing costs without printing anything, faxing or waiting. The system is so easy that a 5th grader could do it.
The process takes no more than 15-20 minutes and costs $120.00.  Unless there is a problem with your filing, you usually have a PDF of your filings and articles of incorporation emailed to you within 45 minutes.
So where's the customer service, Governor Snyder?