Donald Trump Says Its A Shakedown
"No one, no matter how rich or famous they are, has a right to scam hardworking New Yorkers. Anyone who does should expect to be held accountable." -NY AG Eric Schneiderman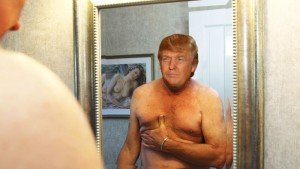 New York Attorney General Eric Schneiderman filed a $40 million dollar lawsuit against Donald Trump claiming his Trump University was a scam. Schneiderman's lawsuit claims that Donald Trump and his fake university promised to make students rich but instead steered them into expensive and mostly useless seminars, and promised apprenticeships that were never delivered.
Schneiderman claims that nearly all of the 5,000 students who paid up to $35,000 thought they would get to meet Donald Trump but instead all they got was their picture taken in front of a life-size cardboard cut out of the billionaire who has taken a detour into the Twilight Zone of nuttiness over the past decade.
Schneiderman said, "Trading on his celebrity status, Mr. Trump personally appeared in advertisements making false promises to convince people to spend tens of thousands of dollars they couldn't afford for lessons they never got. No one, no matter how rich or famous they are, has a right to scam hardworking New Yorkers. Anyone who does should expect to be held accountable."
According to the New York Daily News, this is not the first time Donald Trump and Trump University had a run-in with the state of New York. In 2005, Trump University was put on notice by the state Education Department that it was not licensed to call itself a university and Trump was forced to changed the name to the Trump Entrepreneur Institute in 2010.
The lawsuit also alleges that Trump University advertised "free workshops" across the country that would be taught by instructors that were handpicked by Donald Trump who in reality were not picked by Trump.
The Trump University manual tells instructors not to let consumers, "think three days will be enough to make them successful,"
Consumers were given a sales pitch for "Trump Elite" mentorships that cost $10,000 to $35,000 where they were promised individual instruction until they made their first deal.  Participants were urged to extend the limit on their credit cards for real estate deals, but then used the credit to pay for the Trump Elite programs.
Donald Trump who embraced the ramblings of "Birther Queen" Orly Taitz and made her baffling claims that President Obama was born in Kenya the centerpiece of his teaser presidential campaign responded to the suit by claiming through his attorney, Michael D. Cohen that this is all due to Schneiderman being unhappy about how much Trump contributed to his re-election campaign, ""Donald Trump will not sit back and be extorted by anyone, including the attorney general…the attorney general has been angry because he felt that Mr. Trump and his various companies should have done much more for him in terms of fundraising,"