MI GOP Chairman Bobby Schostak's GOP Office Thrown Into Chaos By Homeowner Activists
Homeowner activists and union activists have finally become organized. They organized a group of about 200 protesters to converge at the office GOP Chairman Bobby Schostak. The homeowner activists led by Michigan United wanted to raise awareness about foreclosure issues facing Michigan homeowners. Consequently, the Michigan GOP called the police.
MIGOP spokeswoman Kelli Ford told the Lansing State Journal:
We politely asked them to move their protest out of the building and onto the public sidewalk. When they didn't, the police were called.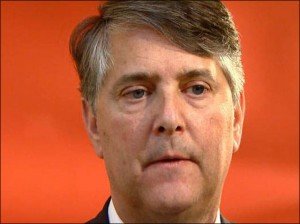 Schostak came under scrutiny last year. Critics accused him of using his power as Chairman of the Michigan GOP to influence the GOP dominated legislature.
Schostak allegedly pressured the GOP dominated legislature to pass a bill that would retroactively overturn a $2.4 million judgment Wells Fargo received against his company. Schostak Brothers is a real estate company the GOP Chairman owns with his two brothers.
Consequently, the law signed last March and says a lender can only recover the real estate offered as collateral in certain types of commercial foreclosures. The bill was retroactively for the sole benefit of the Schostaks.
The Schostak Brothers defaulted on an $8.7 million commercial loan with Wells Fargo. The Schostaks borrowed the money in 2002 to purchase and renovate the Cherryland Mall in Traverse City.
A Grand Traverse County Circuit Judge and the Michigan Court of Appeals ruled in favor of Wells Fargo.
Both courts ruled that the Schostaks violated a clause in the mortgage. The mortgage required the Cherryland Mall be a "single-purpose entity." The mortgage also stated that the property had to remain solvent. Cherryland Mall went insolvent. Thus, triggering the recourse provision in the mortgage contract.