Latino Homeowners Growing Angry As Taxpayer Owned Fannie Mae Plays "Three-Card Monty" With Modification Offers
Steve Dibert and Robin Postell, MFI-Miami
"He dreams that he must fight to obtain his dream, he dreams that there must be death in order to gain life. Antonio dreams and then he awakens…. Now he knows what to do and he sees his wife crouching by the fire, hears his son crying. He looks at the sun rising in the East, and, smiling, grabs his machete. The wind picks up, he rises and walks to meet others. Something has told him that his dream is that of many and he goes to find them." -Mexican Rebel Leader Subcomandante Marcos
US Government's History Of Stealing Property From Latinos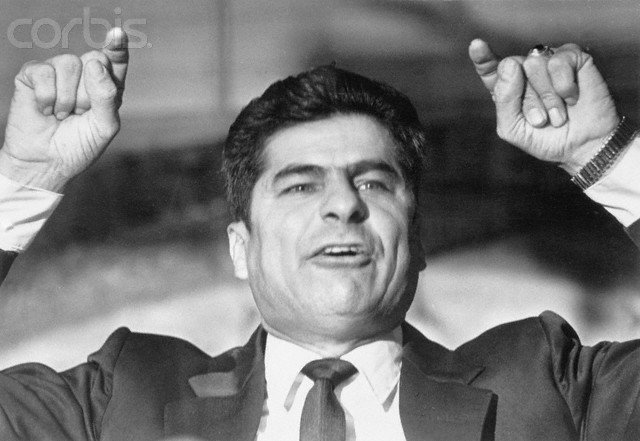 The Treaty of Hidalgo in 1848 might not sound familiar to most in America – but to those acquainted with or belonging to the Hispanic demographic – it serves as a significant historical mile marker and reminder of history's repetitious bent. Inhabitants who had been cultivating the land prior to the Spanish-American War's end were promised by departing Spaniards and the incoming Americans that the treaty would protect them – their land grants honored by the brave new world and its maverick, liberty-loving leaders of America – a new country which had swallowed up the land they had happily inhabited. Before the ink was dry, American courts teamed up with speculators and preyed heartily upon the Spanish-speaking inhabitants unfamiliar with the language or the court system.
The American government wasted no time invalidating over 2 million acres of land ownership agreements and the Mexican inhabitants were left holding worthless pieces of paper.  Land grant "heirs" still clinging to these relics as proof and promise made by the both the Spanish and American governments. For many Mexican-Americans in America, this feeling that the government can confiscate your land is still fresh today as it was 150 years ago.
The parallels to today's housing crisis can hardly be ignored.  It is an ongoing harbinger of not what will come but what has already arrived and keeps on coming.
In 1967, after nearly a half a century of the U.S. Government ignoring their request for an investigation into claims that white business owners, the state of New Mexico and the  U.S. government had illegally confiscated their land and that the state of New Mexico repeatedly illegally shutting down their gatherings and harassing them regularly, a group of 20 armed Mexican-Americans members known as the Alianza Federal de Mercedes led by Juan Valdez (whose death late 2012 piqued some media attention) and Reies López Tijerina mounted a brazen daylight raid on the Rio Arriba County courthouse in Tierra Amarilla, New Mexico to free several members of Alianza who had been illegally detained by District Attorney Alfonso Sánchez.
After freeing their comrades, Valdez and Tijerina led the men into hiding into the Canjilón Mountains.  The state of New Mexico launched the biggest manhunt in the state's history with Lt. Governor E. Lee Francis calling out the National Guard, state police, sheriff's deputies from the northern counties of New Mexico, the Jicarilla Apache police, and a posse of cattle inspectors, to arrest members of Alianza.
For the next 8 days, Tijerina and his men evaded capture and with every passing day, they became folk heroes for tens of thousands of Mexican-Americans across the American southwest who had suffered decades of injustices at the hands of white people.  This incident ignited the Chicano Civil Rights movement of the 1970s.
Even with their growing political clout, Mexican-Americans are still receiving broken promises by the U.S. Government as the federal government is still attempting to illegally confiscate their homes across the U.S.  This time the government is doing it in a more sophisticated way by using their control of Fannie Mae and the banks to act as their henchmen.
Refusing To Surrender Their Piece Of The American Dream To Fannie Mae
Pablo Bocardo works as a maintenance man for Antrim County in northern Michigan while his wife Lupe works in a local factory.  They have worked hard over the past 15 years to make their former Habitat For Humanity house in Elk Rapids, Michigan a home where they raised their three sons.  Two of whom now play semi-pro football.  Life was good until they had the misfortune of meeting Tashia Winstanley, a scam artist who convinced them she could get their mortgage payments lowered.  However, there was a catch. She convinced them that in order for their servicer Select Portfolio, a subsidiary of Swiss bank, Credit Suissse to take them serious, they had to make their mortgage payments directly to her while she negotiated a loan modification with Select Portfolio.
In total the Bocardos paid Winstanley $13,000 before they discovered that she never made the payments and the house went into foreclosure.  The Bocardos had no idea what had happened until a process servicer knocked on the front door from Orlans Associates, a Michigan foreclosure mill informing them that their client, Fannie Mae was evicting them.
They then hired attorney Jason Jenkinson who successfully beat back Fannie Mae's motion for summary judgment in federal court.  The judge allowed the case to move forward and gave both sides a six-month discovery period.  Jenkinson immediately filed a motion for discovery.
On July 2, 2012, as a reporter trying to find answers, Pat Sullivan, a reporter for The Northern Express wrote about the nightmare he encountered trying to reach someone to talk about the Bocardo's foreclosure.
Sullivan's phone calls prompted attorneys at Orlans who represented Fannie Mae to approach Jenkinson with a promise they would offer the Bocardos a loan modification.
Contrary to what Fannie Mae's lawyers told Jason Jenkinson, Fannie Mae had no intention of making an offer for modification and to add insult to injury, Orlans Associates is again threatening eviction proceedings against the Bocardos.  In other words, Fannie Mae and Orlans purposely misled both the Bocardos and Jason Jenkinson in hopes of discouraging the Bocardos from fighting them with the threat of burying them in legal fees.
Fighting For a Better Life in "El Norte"
Angel Garcia's story of coming to America from central Mexico is no different than the stories my great-grandmother used to tell me about coming here from Poland except that Mexicans and other immigrants from Central Americans do not get to experience the glamour and breathtaking view of passing the Statue of Liberty as depicted in the movies like "The Godfather"
Mexicans coming to the U.S. legally still have to endure a much more perilous journey getting to the border than their European counterparts.  Unlike Europeans, Mexicans often have to defend themselves against drug lords, sex traffickers, kidnappers, rape gangs, corrupt cops, thieves and slew of other groups that make the banditos from Sergio Leone movies look like the Salvation Army.
For Angel Garcia, the risk of facing these groups for the thousand mile trek through Mexico to the Texas border so that he and his family could live a new life filled with unimaginable opportunities they would never see in central Mexico was worth it.
Clutching to his Green Card as if it were a golden ticket from Charlie and the Chocolate Factory, Angel Garcia finally made it to the Texas border.  For the next decade, he worked his way across America as a migrant farm worker living in dilapidated barracks with other migrant workers.  He would go to sleep every night dreaming of the day when he would be reunited with his wife, Estela and their children who were back in Mexico waiting for permission to emigrate to America.
After settling in the picturesque Polish enclave of Cedar, Michigan, Angel Garcia was finally able to reunite with his wife Estela and their children in the mid-1990s.
In December of 2003, Angel and Estela were able to do something they could never do in Mexico – they bought a house on a piece of property they actually owned.
In 2011, disaster struck when Angel received a botched hernia surgery and couldn't work for nearly a month.  He and Estela fell behind on his payments that up until then had been paid on time.  Bank of America who was servicing the loan for Fannie Mae, refused to allow Angel or Estela, who don't speak English, to speak to a Spanish-speaking representative even though this is a service Bank of America readily offers throughout the U.S.
At wit's end, the Garcias turned to the CRA housing non-profit, Northwest Michigan Community Action Agency (NMCAA) for help since one of their major benefactors is Bank of America.  NMCAA contacted both Bank of America and Bank of America's attorney, Trott & Trott.  After jumping through all the hoops, Bank of America agreed to give the Garcias a temporary modification.
Garcia 1 St Mod Offer by Steve Dibert
Angel and Estela made the payments as requested until last May when they received the following letter dated May 26th stating Bank of America had agreed to give them a permanent loan modification:
Garcia Perm Mod Offer by Steve Dibert
After making several payments, the Garcias then received a check from Bank of America returning the payments and received this letter dated August 6, 2012 from Trott & Trott claiming because they didn't make any payments or accept the modification offer that Bank of America was now proceeding with foreclosure:
Garcia Trott Letter by Steve Dibert
As word got around last week that I was working on an article about how servicers for Fannie Mae and Freddie Mac were reneging on modification offers made to Latino homeowners and then threatening them with eviction, I have received nearly 50 phone calls and emails from Latino homeowners with Fannie Mae loans across the U.S. telling me that their servicers are threatening them with the same thing.
Latinos in the U.S. are like a sleeping giant who's political clout in Washington is growing everyday, so why would the Obama Administration and Congress allow Ed DeMarco, the Acting Director of the FHFA, the government agency overseeing Fannie Mae and Freddie Mac, to double cross Latino homeowners across the U.S. with is nothing more than a high stakes game of Three Card Monty.