10 State AGs & 45 Members Of Congress Have Joined The Chorus Of Homeowners Demanding DeMarco Be Sacked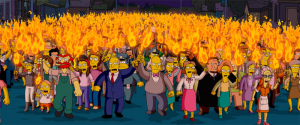 It looks like Ed DeMarco's days of being the Acting Director of the FHFA are ending faster than he or President Obama may have thought.
In what started out as a rallying cry for a handful of histrionic astroturf foreclosure activists organized under a woman who would later plead guilty to mortgage fraud, the calls for Ed DeMarco to be replaced by a "permanent" Director because of his refusal to give underwater homeowners with Fannie Mae and Freddie Mac mortgage  principal write downs has now turned into a chorus of locally elected officials from both sides of the aisle and ten prominent state Attorneys Generals.
Massachusetts Attorney General Martha Coakley became the first AG to begin openly criticizing DeMarco's policies two years ago and then late last year began calling on the President to either rein him in or replace him with a permanent director because his policies are slowing economic recovery in the housing market.  An opinion shared by the White House and former Treasury Secretary Timothy Geithner openly criticized DeMarco's decisions last year, "FHFA is an independent federal agency, and I recognize that, as its acting director, you have the sole legal authority to make this decision. However, I do not believe it is the best decision for the country."
President Obama's refusal to fire DeMarco has troubled members of congress to the point that last month, 45 of them penned a letter to him saying,
 "Ensuring that FHFA implements Congressional directives to support the most liquid, efficient, competitive, and resilient housing finance markets is a matter of national urgency,  For these reasons, we strongly urge you to nominate an FHFA Director who is ready to fulfill this mission and address the many challenges still facing the nation's housing finance markets."
In the three and a half years since Edward J. DeMarco was designated Acting Director of FHFA, questions have persisted about his repeated failure to utilize the authorities available to FHFA to promote a healthy housing finance market. Specifically, the Members point to DeMarco's failure to authorize a loan modification pilot program that would test whether a principal reduction program could save taxpayers money while helping borrowers keep their homes.
FHFA which was created by congress to oversee the taxpayer bailed-out Fannie Mae and Freddie Mac, has been adamant in it's refusal to put the White house proposal in place to reduce the principal on underwater mortgages fearing that it may might expose taxpayers to additional losses.
Earlier this year, New York Attorney General Eric T. Schneiderman along with Kamala D. Harris of California, Beau Biden of Delaware, Lisa Madigan of Illinois, Douglas F. Gansler of Maryland, Catherine Cortez Masto of Nevada and Bob Ferguson of Washington have added their voices to the choir calling on DeMarco to be sacked saying that principal write-downs were a central part of a multibillion-dollar mortgage settlement that 49 state attorneys general negotiated with five major banks a year ago.
Last month, handwritten signs like the one on Interstate I-75 in Detroit began popping up in rust belt cities of the American mid-west as well as on I-95 in Florida.  It is apparent that support for Ed DeMarco among the American  homeowners and members of congress weary of an economic recession and declining home values is rapidly deteriorating.   The question is when will President Obama finally send DeMarco packing?  Is the President waiting for an angry mob of thousands of pissed people to converge at the gates of the White House with torches and pitchforks yelling "KILL THE BEAST! KILL THE BEAST!" like in an old horror movie from the 1930s?