As American Politicians Bury their Head In The Sand, Homeowners Are Taking Action
Steve Dibert, MFI-Miami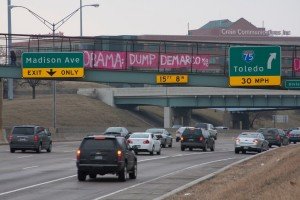 Mysterious St. Valentine's Day banners have sprung up on the freeway overpasses in Detroit this morning calling on President Obama to sack the unpopular Acting Director of the Federal Housing and Finance Agency or FHFA.  FHFA is the government agency created as part of TARP to oversee the government bailout of Fannie Mae and Freddie Mac.
The banners are part of a national day of homeowner-led action to put pressure on President Obama to find a new director of the FHFA. In Michigan, the day of action was spearheaded by members of the Michigan Organizing Project.  
Joey Zilka, a member of the Michigan Organizing Project and a Kalamazoo resident who was foreclosed on:  "DeMarco has blocked comprehensive mortgage relief for homeowners with a Fannie or Freddie loan. I went through foreclosure myself and I don't want any more homeowners to go through what I did. We need a person that will implement bold housing policy. Our economy is lagging and one way to put us back on track is to decrease mortgage debt with principal reduction for homeowners."
The group has launched a website (dumpdemarco.tumblr.com) to educate the public on DeMarco and why they believe President Obama needs to replace him within the first 100 days of his second term.  DeMarco has been a criticized as being an obstructionist when it comes to helping homeowners modify their loans with principal write downs.  DeMarco has also been criticized for instructing Fannie Mae and Freddie Mac to hoard foreclosed homes in an attempt to drive up home prices.
MFI-Miami client and inner-city school teacher, Amy Plumb, who enlisted the aid of the Detroit Chapter of the New Black Panther Nation/New Marcus Garvey Movement is worried about losing her home, and hopes that Fannie Mae will work with her to reduce her principal to fair market value.  "I did everything right. I worked hard and saved. And then the banks crashed the economy with reckless financial games and like millions of homeowners, I lost most of the value of my home. The FHFA was created to help homeowners like me, and right now that's just not happening. President Obama needs to act and replace Ed DeMarco with an FHFA director who will do what's right and allow Fannie Mae and Freddie Mac to issue mortgage relief."
The website, dumpdemarco.tumblr.com links to a petition on the White House website. There are also pictures of people holding the valentines to President Obama and images of the banner hanging over 1-75 in Detroit.